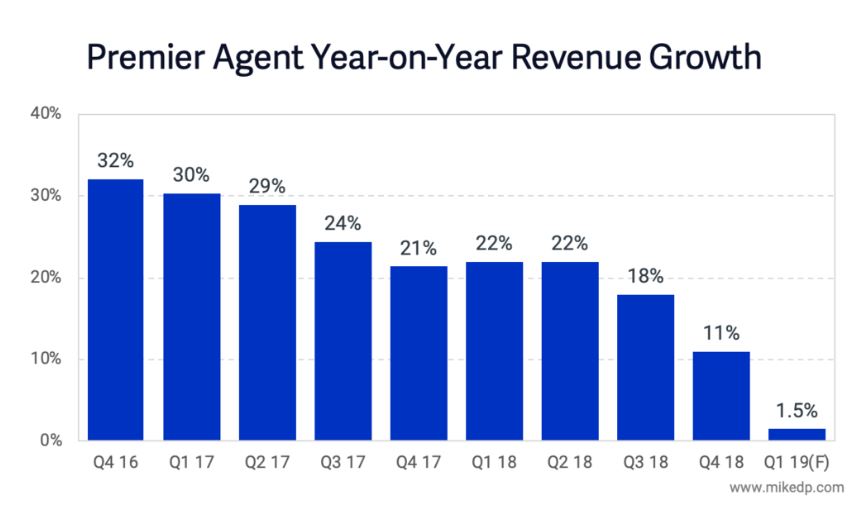 Mike has been the leading resource on the ibuyer industry, and he sees it the same way I do – Zillow wants (and needs) to commit fully to their ibuyer program because advertising income from agents is starting to lag, which could be a major shift in the real-estate-selling business. He is having a seminar for those who might be interested.
From Mike:
Zillow, the world's largest real estate portal in terms of revenue, recently underwent a major shift in strategy. In effect, its advertising revenue stream has run out of runway; while still a billion-dollar business, growth has stopped. Thus, it is reorienting towards iBuying and its Zillow Offers program.
In the world of grand strategy, the move is a rare, bet-the-company moment focused on one thing: the battle for the start of the consumer journey. Designed as a maneuver to simultaneously disarm competitors and strengthen its already powerful position, it's either a masterstroke or a mistake. But in either case, Zillow is clearly "all in" on the gold rush that is iBuying.
Zillow has set lofty goals: buying 60,000 houses per year and $20 billion in revenue. The stock price is up and the company is valued $2 billion higher than it was pre-announcement. This is big.
This Friday I'll run through all of the major points from this move, complete with charts, data, and insights. I'll look at the numbers that matter, the metrics to keep an eye on, and what it all means for the larger ecosystem. I'll also answer your questions! Read more details and register.
Who should attend the webinar?
Zillow's competitors and potential competitors (portals and iBuyers).
Real estate incumbents looking to formulate their iBuyer strategy.
International real estate portals looking to learn from Zillow's move.
Investors interested in iBuying and what the market impact will be.
Start-ups with a desire to understand the new landscape, and how they fit in.

Rich Barton
When the announcement was first made two weeks ago, Zillow stock went from 34 to 44, but it is back down to 38 today (LINK).
Buying 60,000 houses a year isn't the game-changer by itself. What matters is what their nationwide advertising does to the seller's psyche – and will agents keep spending big money to get connected to the sellers who want more $$ than Zillow is willing to pay.