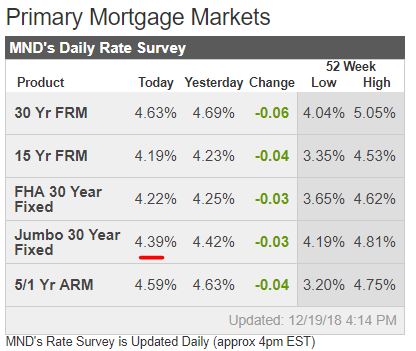 As with the other recent Fed hikes, mortgage rates actually dropped today on the news, and MND's regular voice thinks it could keep going:
Today's Fed Statement and forward guidance meshed with investors' expectations, helping bonds maintain their recent gains.  Treasury yields breached resistance, dropping to 2.78% and MBS improved slightly.  While the trend to lower rates isn't etched in stone, we do appear to be headed that way.  I'll lock applications closing within 15 days, and risk averse clients closing within 30.  Looks like Christmas is coming a little early for borrowers and lenders! – Ted Rood, Senior Originator
http://www.mortgagenewsdaily.com/consumer_rates/890747.aspx
But will potential home buyers notice?
We'll hear how rates are historically low and two more rate hikes are coming in 2019 so hurry up and buy now, but it sounds like sales talk to those who were already going to wait-and-see anyway.
Jumbo mortgage rates around 4.25% might get them back in the game!