The most fascinating thing about working for Compass is how many people ask about Compass (especially other agents). I signed up primarily for the future potential, and where big money might lead us.
We got another sense of how big yesterday:
Compass, a real-estate marketplace startup, raised $400 million in an investment round that will bring the company closer to an eventual initial public offering.
After the investment, the New York-based company will have a $4.4 billion valuation, a person familiar with the matter said. The financing will help Compass expand its real-estate technology into more cities, including outside the U.S., the firm said in a statement.
The Softbank Vision Fund and Qatar Investment Authority are leading the round, Compass said. The company expects growth in 2018 to double to almost $1 billion in revenue, according to the person, who asked not to be identified because the information is confidential. Compass makes its money by taking a small cut of each transaction coordinated by its real-estate agents. The company said it's on track to post more than $34 billion in sales volume this year.
"We will continue to capitalize on our momentum nationally and internationally," said Ori Allon, the company's co-founder and executive chairman.
The latest funding brings the total raised by Compass to $1.2 billion. Besides international expansion, Compass is seeking to enter related businesses beyond property listings, such as mortgage title transfer and moving, CEO Robert Reffkin said in a June interview.
"What books were for Amazon, the brokerage model is for us," Reffkin said at the time.
Link to Bloomberg Article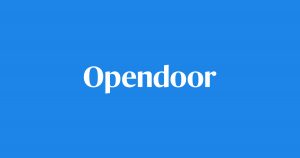 On the same day, the same bank announced the same for OpenDoor:
Growing direct homebuyer Opendoor now has $3 billion in financial backing (yes, that's "billion" with a "b") thanks to a sizable new investment from Japanese technology company SoftBank Group.
Opendoor announced Thursday that it secured a $400 million investment from SoftBank Vision Fund, SoftBank's investment arm.
That investment pushes Opendoor's total equity capital raised above $1 billion – $1.045 billion, to be exact.
In addition, Opendoor said Thursday that it also recently secured $2 billion in debt financing from unnamed "top banks," meaning the growing company now has more than $3 billion in total funding since it first began buying and selling houses in Phoenix and Dallas-Fort Worth in 2014.
Since then, Opendoor has been growing by leaps and bounds and raising money hand over fist.
Opendoor is now operating in nearly 20 markets, including Atlanta, Charlotte, Dallas-Fort Worth, Las Vegas, Nashville, Orlando, Phoenix, Raleigh-Durham, Tampa, and San Antonio, and has plans to into California, the Pacific Northwest, and several other areas over the next few months.
Opendoor's next market expansions will be in Sacramento, California; Riverside, California; Denver, Colorado; Portland, Oregon; Austin, Texas; and Jacksonville, Florida.
And the company plans to be operating in 50 markets by 2020.
Link to Article
It looks like the future of real estate sales will be determined by how these big-money players spend their dough!