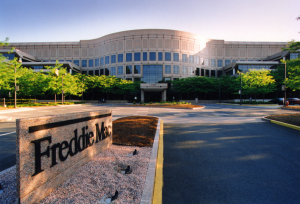 Higher prices, higher rates, slowing sales, and now easing loan guidelines? On non-owner-occupied properties?  Buying a rental property with 5% down is unheard of, and even with higher rents they are likely to negative cash flow:
Freddie Mac is consolidating its Home Possible program with its Home Possible Advantage Mortgages program. These programs offer greater flexibility and higher loan-to-value ratios (LTVs) than traditional mortgage programs.
The combined product will be called Home Possible Mortgages, and will closely align with the purpose and requirements of the previously-named Home Possible Advantage program, with some changes.
Beginning October 29, 2018, lenders will be able to offer Home Possible Mortgages to buyers with limited down payment funds. Under the consolidated program, eligible homebuyers will include:
non-occupant buyers for mortgages secured by one-unit properties with LTVs no higher than:

95% for Loan Product Advisor Mortgages; or
90% for manually underwritten mortgages (non-occupant buyers were previously excluded from the programs);

those who own other properties (buyers who own other properties were previously limited);
buyers with super conforming mortgages (mortgages with high maximum mortgage limits for homes located in high-cost areas) when the mortgage:

is submitted and receives an "Accept Risk" classification through the Loan Product Advisor; and
has an LTV no higher than 95% (super conforming mortgages were previously not permitted);

buyers with secondary financing, including home equity lines of credit (HELOCs), for most cases when the mortgage's LTV is no higher than 97% (secondary financing was previously limited to 95% LTV);
buyers using adjustable rate mortgages (ARMs), when the LTV is no higher than 75% (ARMs were previously not permitted); and
buyers with a maximum 45% DTI for manually underwritten mortgages.
These changes are meant to both widen the pool of qualified homebuyers, and streamline programs for lenders' ease of use.
Housing market risks broaden
By loosening the requirements for its Home Possible Mortgage programs, Freddie Mac's hope is to encourage lenders to qualify more applicants, thereby increasing homeownership opportunities nationwide.
However, loosening requirements by allowing high LTVs, DTIs and ARMs makes lending — and by extension the housing market — riskier. For veteran real estate professionals, a growing presence of dangerous mortgage products and loose lending restrictions will sound familiar, as they all increased during the Millennium Boom and ultimately played a big part in the cause of the housing crash and 2008 recession.
Link to Article