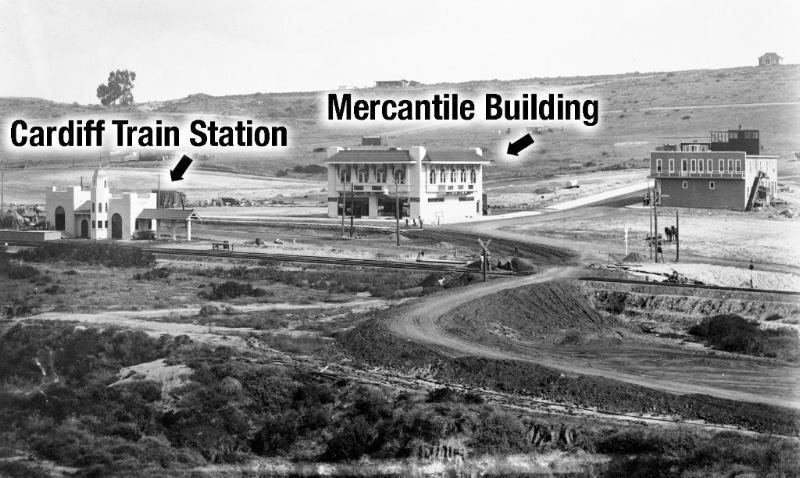 A piece of coastal North County's history from the early 20th century will be preserved, thanks to an alert citizen, some conscientious construction workers, and the cooperation of regional authorities.
In conjunction with the placement of a second track along the railroad that runs along California's coast, the San Diego Association of Governments is overseeing the installation of a segment of the corridor's regional biking and hiking trail in Encinitas' Cardiff-by-the-Sea community.
Encinitas resident Ron Dodge, a student of the region's railroad history, has been observing the rail trail project's progress with particular attention to its path through the site of the old Cardiff train station.
The depot, which opened in 1913, and halted operations in 1921, was situated along the east side of the tracks just north of what today is the intersection of Chesterfield Drive and San Elijo Avenue.
On June 30, Dodge said, he observed that workers had uncovered a concrete slab at the site, which he believed was a remnant of the old station. He immediately contacted city officials, including Councilman Tony Kranz, who is also a railroad buff, and Mayor Catherine Blakespear, to get their help in verifying the discovery.
"I was pretty sure, but I was hedging my bet until I talked with Catherine and Tony," Dodge said in an interview along with Blakespear at the site last week. "I wanted to obtain some additional details because you never can be too sure. It's very exciting to uncover an artifact from the past."
Blakespear is the city's representative on the board of directors for the government association, and she worked with administrators there on preserving the slab.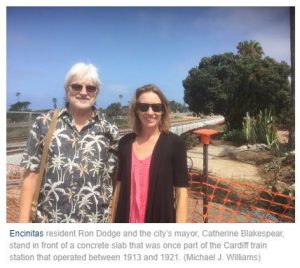 Once its significance was confirmed, association administrators agreed to redesign and reroute the trail so the remnant of the station can be preserved.
"They were willing to put together a different design to preserve this, and I'm really grateful for that," Blakespear said.
Fortunately, Blakespear said, the workers clearing the site left the concrete structure undisturbed.
Link to Full Article