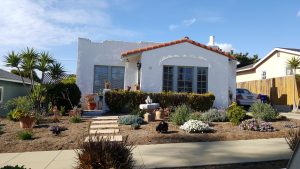 The new-listings count cooled off this week – only 99 vs. 138 last week – but the total number of houses in escrow jumped 9%!  Rising rates are probably playing a role in the decision-making by buyers, and the expectation of another Fed move is likely to keep the housing market hopping:
The Federal Reserve is almost certain to raise short-term interest rates at its June policy meeting and will likely follow up with another increase in September, according to economists surveyed by The Wall Street Journal.
Among professional forecasters surveyed in recent days, 98% predicted the Fed's next rate increase will come at its June 12-13 meeting, with the average probability of a move then pegged at 85%.
We know that mortgage rates aren't tied to the Fed rate, but buyers are already jittery about prices – the thought of potentially-higher mortgage rates should keep them very active!
The UNDER-$1,000,000 Market:
| | | | | |
| --- | --- | --- | --- | --- |
| Date | NSDCC Active Listings | Avg. LP/sf | Avg. DOM | # of Pendings |
| Jan 1 | 36 | $477/sf | 51 | 58 |
| Jan 8 | 35 | $479/sf | 42 | 56 |
| Jan 15 | 39 | $469/sf | 37 | 53 |
| Jan 22 | 37 | $453/sf | 42 | 62 |
| Jan 29 | 38 | $459/sf | 35 | 64 |
| Feb 5 | 41 | $463/sf | 26 | 69 |
| Feb 12 | 39 | $461/sf | 20 | 73 |
| Feb 19 | 42 | $456/sf | 20 | 72 |
| Feb 26 | 53 | $451/sf | 20 | 81 |
| Mar 5 | 47 | $457/sf | 24 | 79 |
| Mar 12 | 60 | $434/sf | 19 | 87 |
| Mar 19 | 67 | $478/sf | 21 | 81 |
| Mar 26 | 61 | $477/sf | 23 | 86 |
| Apr 2 | 50 | $464/sf | 24 | 95 |
| Apr 9 | 56 | $471/sf | 23 | 93 |
| Apr 16 | 61 | $464/sf | 24 | 93 |
| Apr 23 | 59 | $459/sf | 25 | 96 |
| Apr 30 | 61 | $466/sf | 27 | 95 |
| May 7 | 67 | $472/sf | 20 | 89 |
| May 14 | 66 | $480/sf | 21 | 95 |
The $1,000,000 – $1,500,000 Market:
| | | | | |
| --- | --- | --- | --- | --- |
| Date | NSDCC Active Listings | Avg. LP/sf | Avg. DOM | # of Pendings |
| Jan 1 | 91 | $532/sf | 72 | 68 |
| Jan 8 | 99 | $551/sf | 64 | 64 |
| Jan 15 | 96 | $535/sf | 61 | 75 |
| Jan 22 | 107 | $515/sf | 63 | 82 |
| Jan 29 | 108 | $512/sf | 57 | 91 |
| Feb 5 | 110 | $518/sf | 49 | 100 |
| Feb 12 | 117 | $487/sf | 46 | 106 |
| Feb 19 | 107 | $500/sf | 45 | 114 |
| Feb 26 | 112 | $485/sf | 46 | 117 |
| Mar 5 | 111 | $496/sf | 45 | 115 |
| Mar 12 | 126 | $475/sf | 43 | 109 |
| Mar 19 | 125 | $487/sf | 47 | 129 |
| Mar 26 | 133 | $484/sf | 47 | 124 |
| Apr 2 | 139 | $495/sf | 47 | 121 |
| Apr 9 | 148 | $485/sf | 51 | 119 |
| Apr 16 | 145 | $474/sf | 45 | 114 |
| Apr 23 | 162 | $470/sf | 43 | 117 |
| Apr 30 | 162 | $486/sf | 42 | 121 |
| May 7 | 180 | $495/sf | 40 | 117 |
| May 14 | 182 | $491/sf | 41 | 127 |
The $1,500,000 – $2,000,000 Market:
| | | | | |
| --- | --- | --- | --- | --- |
| Date | NSDCC Active Listings | Avg. LP/sf | Avg. DOM | # of Pendings |
| Jan 1 | 84 | $612/sf | 86 | 40 |
| Jan 8 | 98 | $612/sf | 73 | 42 |
| Jan 15 | 98 | $607/sf | 73 | 42 |
| Jan 22 | 111 | $589/sf | 63 | 42 |
| Jan 29 | 120 | $577/sf | 61 | 45 |
| Feb 5 | 114 | $586/sf | 56 | 51 |
| Feb 12 | 118 | $566/sf | 52 | 57 |
| Feb 19 | 121 | $596/sf | 53 | 64 |
| Feb 26 | 122 | $596/sf | 53 | 64 |
| Mar 5 | 125 | $593/sf | 56 | 70 |
| Mar 12 | 131 | $602/sf | 53 | 67 |
| Mar 19 | 120 | $598/sf | 58 | 74 |
| Mar 26 | 121 | $596/sf | 57 | 75 |
| Apr 2 | 128 | $593/sf | 55 | 70 |
| Apr 9 | 140 | $612/sf | 54 | 66 |
| Apr 16 | 146 | $617/sf | 50 | 67 |
| Apr 23 | 149 | $616/sf | 53 | 78 |
| Apr 30 | 152 | $605/sf | 60 | 81 |
| May 7 | 157 | $618/sf | 63 | 85 |
| May 14 | 158 | $614/sf | 63 | 87 |
The $2,000,000+ Market:
| | | | | |
| --- | --- | --- | --- | --- |
| Date | NSDCC Active Listings | Avg. LP/sf | Avg. DOM | # of Pendings |
| Jan 1 | 341 | $1,021/sf | 127 | 56 |
| Jan 8 | 356 | $1,007/sf | 123 | 49 |
| Jan 15 | 370 | $991/sf | 115 | 48 |
| Jan 22 | 375 | $992/sf | 110 | 47 |
| Jan 29 | 384 | $1,005/sf | 109 | 56 |
| Feb 5 | 387 | $1,005/sf | 111 | 56 |
| Feb 12 | 379 | $1,004/sf | 107 | 63 |
| Feb 19 | 399 | $990/sf | 104 | 69 |
| Feb 26 | 400 | $990/sf | 101 | 75 |
| Mar 5 | 398 | $1,022/sf | 97 | 79 |
| Mar 12 | 406 | $1,017/sf | 99 | 89 |
| Mar 19 | 430 | $1,020/sf | 97 | 79 |
| Mar 26 | 455 | $0/sf | 92 | 71 |
| Apr 2 | 453 | $0/sf | 94 | 67 |
| Apr 9 | 462 | $0/sf | 94 | 66 |
| Apr 16 | 473 | $0/sf | 95 | 66 |
| Apr 23 | 482 | $0/sf | 95 | 70 |
| Apr 30 | 476 | $0/sf | 94 | 74 |
| May 7 | 486 | $0/sf | 92 | 72 |
| May 14 | 493 | $0/sf | 91 | 84 |
Weekly NSDCC New Listings and New Pendings
Week

New Listings

New Pendings

Total Pendings

May 30

70

84

June 5

87

64

June 11

77

69

June 17

73

66

June 24

100

69

July 1

86

64

July 8

81

53

July 15

106

54

July 22

105

89

July 29

71

74

Aug 5

105

64

Aug 12

77

61

Aug 19

88

73

Aug 26

87

77

Sep 2

76

55

Sep 9

85

58

Sep 16

102

61

Sep 23

84

54

Sep 30

73

80

Oct 7

80

61

Oct 14

78

53

Oct 21

70

63

Oct 28

54

40

Nov 4

63

53

Nov 11

49

64

Nov 18

52

44

Nov 25

48

40

Dec 2

25

34

Dec 9

45

47

Dec 16

56

46

Dec 23

21

39

Dec 30

14

23

Jan 6

63

25

Jan 13

75

44

Jan 20

98

51

Jan 27

71

56

Feb 3

74

63

Feb 10

95

59

Feb 17

81

76

Feb 24

80

70

Mar 3

88

71

Mar 10

98

54

Mar 17

87

65

Mar 24

89

76

Mar 31

77

57

April 7

98

61

April 14

108

72

April 21

87

62

April 28

122

73

May 5

144

67

May 12

96

85

May 19

87

61

May 26

97

72

Jun 2

90

59

Jun 9

108

52

Jun 16

103

65

Jun 23

131

62

Jun 30

85

70

July 7

83

59

July 14

100

62

July 21

112

75

July 28

113

62

Aug 4

84

48

Aug 11

95

62

Aug 18

83

54

Aug 25

72

54

Sep 1

71

60

Sep 8

81

57

Sep 15

80

49

Sep 22

77

49

Sep 29

79

51

Oct 6

78

54

Oct 13

73

54

Oct 20

70

64

Oct 27

55

54

Nov 3

60

45

Nov 10

72

63

Nov 17

57

65

Nov 24

56

41

Dec 1

41

37

Dec 8

46

30

Dec 15

31

34

Dec 22

30

31

Dec 29

15

25

Jan 5

36

25

Jan 12

85

40

Jan 19

78

48

Jan 26

74

50

Feb 2

77

43

Feb 9

106

68

Feb 16

81

67

Feb 23

86

63

Mar 2

83

64

Mar 9

99

68

Mar 16

93

76

Mar 23

101

84

Mar 30

89

81

Apr 6

80

58

Apr 13

95

68

Apr 20

101

70

Apr 27

77

69

May 4

112

74

May 11

100

67

May 18

109

80

May 25

91

69

June 1

91

70

June 8

107

90

June 15

99

67

June 22

107

62

June 29

100

74

July 6

91

62

July 13

126

58

July 20

93

62

July 27

83

74

Aug 3

90

56

Aug 10

93

57

Aug 17

85

60

Aug 24

73

60

Aug 31

82

54

Sep 7

87

59

Sep 14

80

51

Sep 21

74

48

Sep 28

76

53

Oct 5

83

53

Oct 12

63

54

Oct 19

67

45

Oct 26

62

50

Nov 2

77

60

Nov 9

74

54

Nov 16

70

56

Nov 23

72

49

Nov 30

35

42

Dec 7

57

42

Dec 14

53

41

Dec 21

51

30

Dec 28

15

25

Jan 4

38

22

Jan 11

84

43

Jan 18

96

33

Jan 25

102

42

Feb 1

87

46

Feb 8

88

55

Feb 15

102

71

Feb 22

100

52

Feb 29

80

72

March 7

123

52

March 14

101

75

March 21

90

75

March 28

94

64

April 4

112

72

April 11

95

75

April 18

99

81

April 25

105

72

May 2

115

65

May 9

100

76

May 16

113

70

May 23

110

75

May 30

102

83

Jun 6

91

68

Jun 13

104

58

Jun 20

111

62

Jun 27

109

69

Jul 4

99

59

Jul 11

73

43

Jul 18

119

61

Jul 25

108

68

Aug 1

92

68

Aug 8

103

63

Aug 15

77

65

Aug 22

80

66

Aug 29

76

75

Sept 5

89

67

Sept 12

98

60

Sept 19

95

69

Sept 26

76

68

Oct 3

78

69

Oct 10

75

46

Oct 17

92

60

Oct 24

79

50

Oct 31

59

54

Nov 7

65

44

Nov 14

75

45

Nov 21

63

52

Nov 28

31

34

Dec 5

86

47

Dec 12

46

41

Dec 19

45

58

Dec 26

21

26

Jan 2

35

22

Jan 9

73

38

Jan 16

98

46

Jan 23

74

59

Jan 30

65

43

Feb 6

101

55

Feb 13

89

55

Feb 20

92

57

Feb 27

66

73

Mar 6

102

66

Mar 13

99

59

Mar 20

93

82

Mar 27

82

60

Apr 3

104

70

Apr 10

96

83

Apr 17

99

69

Apr 24

106

68

May 1

111

88

May 8

96

94

May 15

93

80

May 22

104

60

May 29

112

93

Jun 5

100

71

Jun 12

98

71

Jun 19

81

60

Jun 26

86

48

Jul 3

88

65

Jul 10

80

55

Jul 17

109

64

Jul 24

86

61

Jul 31

90

75

Aug 7

99

71

Aug 14

76

65

Aug 21

83

62

Aug 28

96

60

Sept 4

74

71

Sept 11

81

42

Sept 18

77

47

Sept 25

67

59

Oct 2

71

61

Oct 9

96

63

Oct 16

72

51

Oct 23

64

42

Oct 30

55

43

Nov 6

84

49

Nov 13

81

39

Nov 20

46

60

Nov 27

23

37

Dec 4

45

39

Dec 11

49

41

Dec 18

30

47

Dec 25

21

22

Jan 1

18

15

Jan 8

89

31

Jan 15

87

43

Jan 22

87

43

Jan 29

81

48

244

Feb 5

77

53

262

Feb 12

74

53

280

Feb 19

89

55

295

Feb 26

87

57

318

Mar 5

84

62

328

Mar 12

107

61

339

Mar 19

88

59

350

Mar 26

99

55

347

Apr 2

87

66

346

Apr 9

106

58

336

Apr 16

98

54

331

Apr 23

108

67

353

Apr 30

98

70

362

May 7

138

68

355

May 14

99

78

386