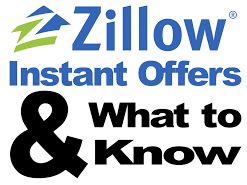 Whoever spends the most money on advertising will win, and Zillow spends around $100,000,000 per year.  Who can keep up?  In the video he says that 90% of the home sellers chose to hire an agent, rather than sell to Zillow:
Nearly one year ago, Zillow shook up the real estate industry when it announced that it was getting into the home selling business by launching "Zillow Instant Offers."
In the program, homeowners looking to sell their home in the test markets of Las Vegas and Orlando are able to get cash offers for their home from selected investors interested in buying it, all within Zillow's platform.
As it turns out, that was just the beginning.
Zillow announced Thursday that it will begin buying and selling homes directly to and from homeowners.
To repeat, Zillow itself will soon be buying homes directly from sellers, then turning around and reselling them.
According to Zillow, the program will start small and test in two markets, Las Vegas and Phoenix.
But the program represents a huge change in the business model for Zillow. Back in 2015, Zillow CEO Spencer Rascoff said that the company views itself as a media company, not a real estate company.
"We sell ads, not houses," Rascoff said at the time. "We're all about providing consumers with access to information and then connecting them with local professionals. And we do a great job of giving those local professional high-quality lead, they'll covert those leads to at a high rate and then want more media impressions from us. So we're not actually in the transaction, we're in the media business."
But that's not the case anymore.
Now, Zillow sells ads and houses.
According to Zillow, its homebuying program will roll out "this spring" in Phoenix and Las Vegas.
The company said that home sellers in those markets will be able to compare an agent's comparative market analysis to offers directly from Zillow or from other investors.
Zillow says that it when it buys a home, it will make the "necessary repairs and updates" and list the home "as quickly as possible."
Now, what appears to make Zillow's direct buying program different from companies like Opendoor and OfferPad is that it does not cut real estate agents out of the process.
According to Zillow, a local agent will represent Zillow in the purchase and sale of each home, which will enable agents to earn commission on the purchase and sale.
Zillow interview from Mo Moghari on Vimeo.