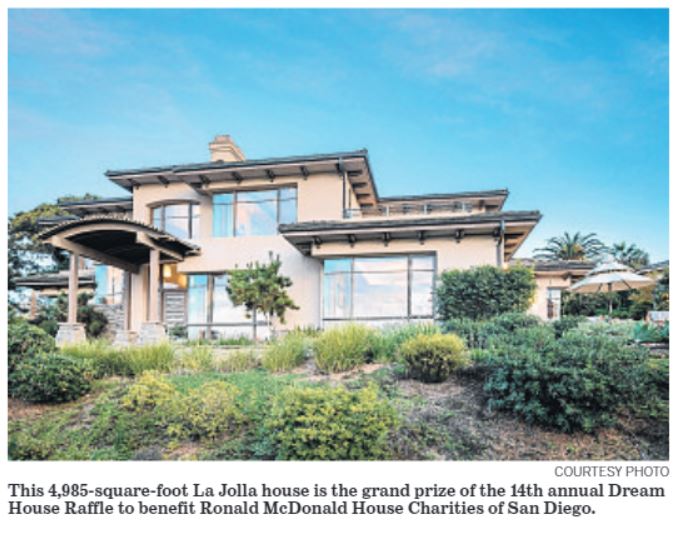 From the UT:
There are a host of dream-house raffles across the West this year, and a big winner in many of them appears to be a Seattle-based consultant.  The raffles have the same concept — for a $150 ticket, get a chance to win a multimillion-dollar dream home. Although there are lesser prizes, the house is only given away if ticket sales hit a certain threshold.
Ronald McDonald House Charities of San Diego has used consultant Neal Martin Zeavy to run its dream-house raffle at least since 2008. In the decade that he has run the event, the fundraiser has never sold enough tickets to result in a house giveaway.
Zeavy was paid $525,000 by the San Diego charity last year, according to the nonprofit's tax returns. For context, Charles Day — the San Diego charity's president and CEO — received $224,985, the tax records show.  Zeavy has helped run dream-house raffles for at least five other nonprofits.
The Special Olympics Southern California has run a dream-house raffle for eight years and never sold enough tickets to give away the main prize, spokesman John Shaffer said, although he did not have information on how many tickets short the raffle was each year. For his efforts, Zeavy received $459,390 as a consultant last year, according to tax returns.
Zeavy was also paid six- or seven-figure payments to run raffles that are happening this year, say tax returns. Yerba Buena Center for the Arts, $1 million; Special Olympics Washington, $294,760; Ronald McDonald House Charities of Northern California, $222,004; and Boys & Girls Clubs of Metro Denver, $456,285.
Those organizations did not respond to repeated requests for information on how many years the contest did, or did not, give the top prize.
U-T Watchdog tried to reach Zeavy, 38, at his own $2 million home near the shores of Lake Washington in Seattle. He did not reply to a message left over a week ago on his voicemail, and the Ronald McDonald charity declined to ask him to call.
Before he got into dream-house raffles, Zeavy was a kindergarten teacher at a small school in rural Central California. At Watsonville's Mount Madonna School in 2006, Zeavy helped run a raffle that promised a dream house for the winner. The contest was so successful that he was soon tapped to run a similar contest in San Diego.
The Ronald McDonald House Charities of San Diego last gave away a dream house in 2005, before Zeavy took over the event. The fundraiser, taking place now, is promising a grand prize of a La Jolla home or cash prize if the winner doesn't want the house.
Day, CEO of the Ronald McDonald House Charities of San Diego, noted that other prizes besides the house are given even if the house is not.
"Even if the threshold is not met," he wrote in an email, "we still award a grand prize in the form of a $1.3 million annuity or a $900,000 cash payout, along with more than 2,300 other prizes." Promotion materials in the fine print explain the prize could be unlikely.
"More than 48,000 raffle tickets have been sold in each of the past four years," it reads on a flyer for many San Diego residents and on the contest's website, sdraffle.com . The threshold for a grand prize this year is 68,685 tickets.
Charity watchdogs have criticized the contest because it appeared the nonprofit had incentive not to sell enough tickets. Last year, it was roughly 25,000 tickets short of giving away the main advertised prize and 11,000 short in 2016 .
Bennett Weiner, chief operating officer of the Better Business Bureau's Wise Giving Alliance , said raffles should be called something else if the main prize is seldom won.  "If it is unlikely that the house is ever going to be given away, because it's only a rare occasion they sell enough tickets," he said, "in fairness, they need to be clear on what the most likely prize is."
The promise of a dream house is powerful, and is featured in marketing for such raffles.  In an advertisement for the Special Olympics Southern California dream house, entertainer J-Black White tells the camera, "You could win this amazing home. Just for doing some good in the world."
Zeavy told The Seattle Times in 2014 that he had been involved in 33 dream-house raffles. He declined to tell the newspaper how many times the grand prize had been given away.
Ronald McDonald House Charities of San Diego uses the majority of the money to fund the organization's mission to provide bedrooms and meals for families with very sick children receiving hospitalized care.  It raised $3.4 million in gaming activities in 2017, said tax returns. Even though Zeavy received $525,000, there is no dispute the raffle made money for the charity.
Daniel Borochoff, founder and president of Chicago-based CharityWatch, has been critical of dream-house raffles in the past but acknowledged it could be the easiest way for some charities to make cash for a good cause.
"If the charity feels this is the most cost-efficient way for it to raise money, without misleading people … then it is a good thing," he said.
Borochoff said appearing aboveboard is important, and he doubted people were actually reading the fine print on the raffle.
"Charities need to be concerned about appearances and trust," he said. "If I was running that charity, I would say, 'We need to give away a house. I don't want to be associated with something where you are giving the impression you are giving away a house to people, and you're not doing it year after year after year.' "
In many cases, the charities rely on the raffle as a big part of their funding. For the Yerba Buena Center for the Arts, the raffle made up the largest part of its budget — 25 percent — in its most recent financial report .
Before Zeavy came on board, the San Diego raffle had a streak of home giveaways — in 2003, 2004 and 2005. The winner in 2005 was the only one to choose the house over the prize money.
A single ticket for this year's contest costs $150, or contestants can buy three tickets for $400 or five tickets for $550. In addition to the cash or annuity mentioned by Day, other prizes include an Apple MacBook, 2018 Vespa Primavera or Google Jamboard.
The home being promoted for this year's drawing is on Hidden Valley Road in La Jolla, with three bedrooms and four bathrooms spread across 4,985 square feet. It was listed for sale in April 2017 for $5.2 million. It was taken off the market in November, pending the outcome of the dream-house raffle.