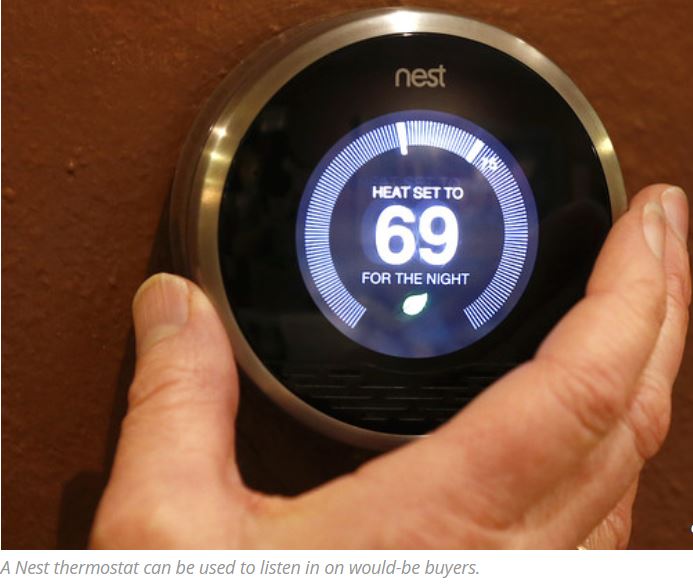 Hat tip to Richard for sending this in:
Jill Comfort, a Phoenix-area Realtor, had a good feeling about the cream-colored stucco house she planned to show her client, a young man relocating to the city from California. It was in his budget, in the right location and had a huge pool and back yard that would allow him to entertain.
It also had multiple surveillance cameras that recorded everything that went on as prospective buyers walked through.
"When we were walking out of the hallway we could see they were following us," Comfort said. Both agent and client felt "awkward," she added.
"I can understand where some sellers are leery of strangers walking through their house, but that's what happens when you put your house on the market," Comfort said. Her client, she said, was "creeped out."
As homes become smarter, real estate agents and home buyers are increasingly finding there's an extra set of eyes and ears on them as they tour properties for sale. In a 21st-century version of the "nanny cam," Realtors describe everything from old-fashioned security cameras to newer contraptions like Nest thermostats tracking their conversations and actions. The rise of these wired home sellers is raising fresh concerns about privacy, courtesy and legality in a transaction that's already fraught with emotion and potentially full of pitfalls.
Andie DeFelice is a broker with Savannah-based Exclusive Buyer's Realty, Inc., and the president of the National Association of Exclusive Buyer Agents. Last fall, DeFelice took a client to see a home that seemed perfect for his specific needs: it had a detached combination two-car garage and studio with living room, kitchen and full bath — perfect for his grown son.
Shortly after the deal settled and her client had moved in, his new next-door neighbor introduced himself with some unsettling news, saying, as DeFelice put it, "I just want you to know the guy who sold the house knew he had a buyer the minute you walked through." The neighbor wasn't making it up: he was able to repeat the conversation client and broker had when they toured the house.
"It's one of those things where it is the person's home, they have the right to do whatever — but you feel a little violated," DeFelice said.
Because the house was one of a very few with the unique feature that the buyer wanted, she added, the seller was right — her client was primed to buy the moment he stepped in the door. And he doesn't feel that he tipped his hand unknowingly to the camera and then overpaid — although that's a real risk for other buyers caught commenting during tours. What does rankle DeFelice about the encounter, she said, is that the previous owner referred to him as "the older guy" with a "younger" son when describing the transaction to his neighbor.
Rogers had a similar experience. She was selling the home of a couple who used a Ring Door Bell, now held by Amazon, even when their home was not on the market. Although they had signs about ongoing recording clearly posted — as is the law in Oregon — one buyer and her broker lingered on the porch, discussing the property.
Hearing the way the buyers talked about their property was "unsettling" for the sellers, Rogers said. Even though they were the ones capturing a conversation carried on by someone else,"they felt violated with the people standing on the porch talking about the house."
Link to Article