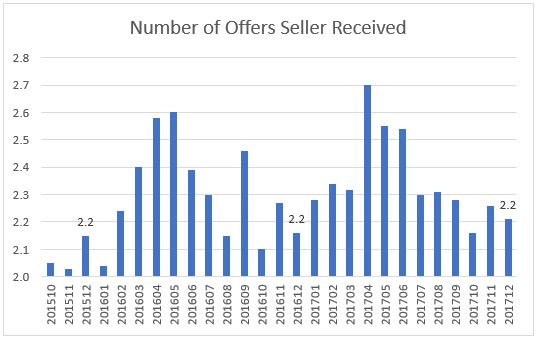 The graph above shows that we're heading into multiple-offer season, and whether you are buying or selling, you should work with an agent who is an expert in handling a bidding war.
In a monthly survey of REALTORS®, seller's agents who closed a sale are asked "How many offers were received for the most recent property you sold in the past month?
Among seller's agents who closed a sale in December 2017, the respondents reported they received 2.2 offers (which means sellers received between two to three offers) on their most recent sale, according to the  December 2017 REALTORS® Confidence Index Survey.The number of buyer offers on a home has remained unchanged in the past two years. Why so?
On the one hand, an improving job market tends to prop up the number of buyer offers, assuming the same level of homes listed for sale. Yet in reality, the number of homes being offered for sale have fallen to their lowest level since January 1999 (3.2 months' supply in December 2017), and this has pushed up prices, dampening demand. Since January 2012, the median home price of existing homes sold has increased by 60 percent.
The number of buyer offers exhibits a seasonal fluctuation, with the number of offers tending to peak in April through June, as households plan their move/relocation around the school opening in August/September.
Link to Article