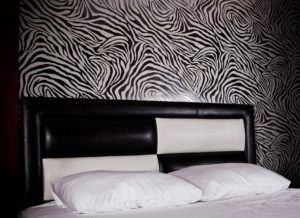 How NOT to Decorate Your Master Bedroom
There are some buyers that have a hard time imagining what the house would look like with their furniture and personal touches in it – so if it looks slightly off when showing, those buyers could be running for the door. Here's what you should NOT have your master bedroom looking like when selling.
This article came from Realtor.com but I completely agree with all these points.
Article below, with Kayla's thoughts in italics:
The bedroom may be a private retreat, but sooner or later guests could enter this area—and you don't want it to be an embarrassment, right? Sadly, bedroom decor leaves a lot to be desired, according to interior designers, who see homeowners make the same mistakes over and over when choosing how to furnish this room.
But you don't have to be one of them: Just heed this list of bedroom decor ideas that designers really wish you wouldn't buy into, including furniture, accessories, and finishes that have no business in a well-appointed boudoir. Some of these must-avoid bedroom designs are outdated, while others are just huge no-nos no matter what era you're in. Steer clear to keep your bedroom looking its best.
1. Animal Prints
Like shoulder pads and mullets, leopard- and zebra-print fabrics are relics from the '80s and need to be banished from the bedroom.
"Animal print on anything isn't a welcome look in this space," reports Reba Haas, a Realtor® with Re/Max Metro Eastside in Seattle. Other dated styles in the bedroom include distressed furniture, tufted headboards, canopies, and sleighs beds.
An abundance of zebra or cheetah does look a bit dated.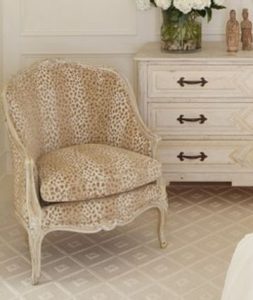 2. Beds that are Too Big
Not measuring before you purchase furniture is a common mistake, but it's made even worse when the piece has to live in very limited bedroom space.
"Keeping proportions in mind is key for this room—because not being able to move or walk around the bed is ridiculous," says Karen Gray-Plaisted, an interior pro with Design Solutions KGP. And when it doubt, leave it out.
"It's always better to have a few pieces in the bedroom, rather than lots of small ones, because less furniture helps to make the room feel larger," explains Sara Chiarilli, an interior designer with Artful Conceptions in Tampa.
You can hang lighting over nightstands if your room is small, which frees up space on the bedside tables, she suggests. "And if a dresser will only make the room feel cramped, consider building out the closet instead, which opens the room and may even gain you more storage in the end," she says.
Some people love their California King and who doesn't?! But when you have it in a small room and that's literally the only thing it can hold, let's downsize to a queen.  When selling, staging is a good answer here!
3. Valances and Floral Curtains
Drapes frame your windows and can act as wall decor in an otherwise plain bedroom. So, skipping curtains altogether is not a terrific idea, but going too elaborate is no good, either.
"Please don't buy old-style, puffy valances or fussy florals," cautions Haas. At the very least, get some kind of drapes that darken the room at night but let in some light during the day, says Gray-Plaisted.
And when you do decide on window treatments, measure carefully.
"Don't hang curtains that end just a few inches below the window—they should go to the floor," points out Chiarilli. If you have fixed-panel drapery, it should just touch the floor, while traditional curtains should fall in a nice puddle, she adds. "And don't forget to hang curtains and rods high enough toward the ceiling, beyond the window, so the room feels bigger."
Just no… They can really add a sort of heaviness to the room. There are so many options for blinds these days, let's take a look at those wood shutters or roller shades!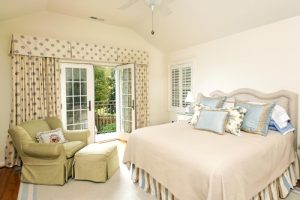 4. "Rug as a Coaster" Look
A rug or carpeting in the bedroom is cozy and inviting and can help tie your look together, say the pros.
"A rug also grounds the room and makes it feel larger, says Chiarilli. But a too-small piece of carpet will float sadly in the middle, neither warming your toes nor making much of an impact.
"The rug needs to encompass most of the room—it can't look like a coaster on the floor," she says.
Not a fan of wall-to-wall carpet or a large area rug here? "You could put a rug on each side of the bed instead," says Gray-Plaisted.
Lmao. This looks like the rug you had in your college dorm room and brought back to put in your master bedroom.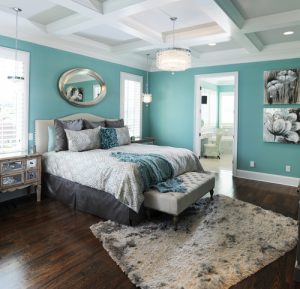 5. Benches and Slipper Chairs
A bench seems rather stylish—until you can't see it anymore for all of the laundry that's been piled on top.
"Benches and slipper chairs are pretty in magazines, but they often end up becoming a dumping ground," states Gray-Plaisted. Unless you have oodles of space and a big budget for your bedroom decor, don't waste your money.
Don't get me wrong, I totally thought this was a cute idea. But realistically, this bench is where all your folded laundry goes or when you try on 10 outfits and you leave the nine you didn't wear. Save yourself the clutter!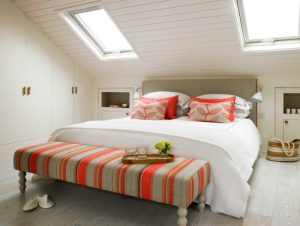 6. Complete Bedroom Sets
Think you're saving time with this cookie-cutter look? It's tempting to pick up a bedroom set in one shot, but your room loses major appeal when all the pieces look the same.
"Nix the idea of buying an entire set from the showroom floor," recommends Gray-Plaisted. Instead, mix and match styles for your dresser and bed. And keep in mind that bedside tables needn't match either. Two similar designs are fine.
Kids' bedrooms?  Maybe.  Adults?  Please!