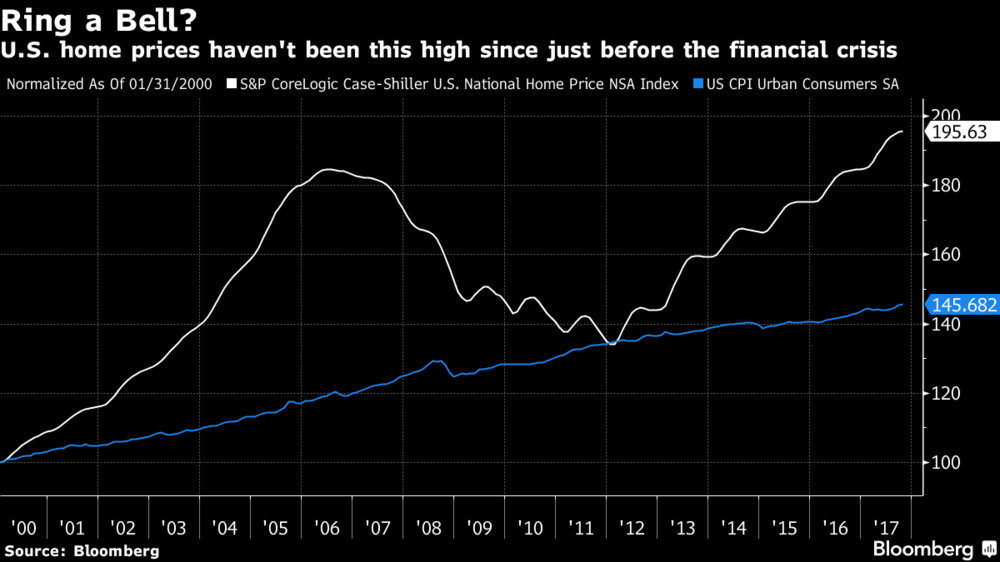 From Bloomberg.com – an excerpt:
When real estate investors get this confident, money manager James Stack gets nervous.  U.S. home prices are surging to new records. Homebuilder stocks last year outperformed all other groups. And bears? They're now an endangered species.
Stack, 66, who manages $1.3 billion for people with a high net worth, predicted the housing crash in 2005, just before prices reached their peak. Now, from his perch in Whitefish, Montana, he says his "Housing Bubble Bellwether Barometer" of homebuilder and mortgage company stocks, which jumped 80 percent in the past year, once again is flashing red.
"It is 2005 all over again in terms of the valuation extreme, the psychological excess and the denial," said Stack, whose fireproof files of newspaper articles on bear markets date back to 1929. "People don't believe housing is in a bubble and don't want to hear talk about prices being a little bit bubblish."
As the housing market approaches its key spring selling season, Stack is practically alone in his wariness. While price gains may slow, most analysts see no end in sight for the six-year-old recovery.
There are plenty of reasons to be optimistic. The housing needs of two massive generations — millennials aging into homeownership and baby boomers getting ready for retirement — are expected to fuel demand for years to come if employment remains strong. Sales in master-planned communities, many of which target buyers who are at least 55, reached a record last year, according to John Burns Real Estate Consulting. Last month, a gauge of confidence from the National Association of Home Builders/Wells Fargo rose to the highest level in 18 years, and starts of single-family homes in November were the strongest in a decade.
"As soon as homes are finished, they're flying off the shelf," said Matthew Pointon, Capital Economics Ltd.'s U.S. property economist.
Stack has a different perspective. While the market might gradually correct itself, history shows that it's more likely to "come down hard" with the next recession, he said. He described the pattern as a steep run-up in housing prices spurred by low interest rates. The last downturn came about when economic growth slowed after a series of rate increases, exposing the "rot in the woodwork" and prompting loan defaults, Stack said.
He noted that the Fed has projected three rate increases for this year, and said that "raises the risk that today's highly inflated housing market will again end badly." He's watching homebuilder stocks closely because they're a leading indicator, peaking in 2005, the year he called the crash — and the year before home prices themselves hit a top.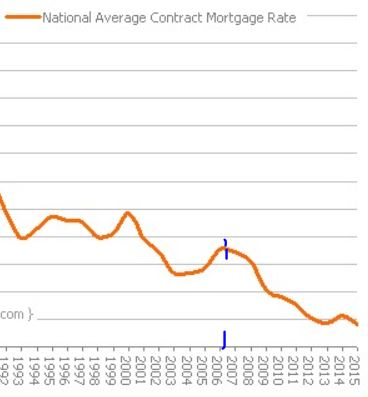 Jim: Of course today's environment feels irrationally exuberant – it's hard to believe how well we have done since our pricing recovery began in 2009!
But his reasoning that higher mortgage rates would "Raise the risk that today's highly inflated housing market will again end badly" is off-base.  Rates were coming down during the mortgage crisis – it was the fury over the neg-am loans that caused borrowers to think their payment was going to go through the roof, burn the house down, and kill their family.  Borrowers who could only afford their initial minimum payment on the ARM then panicked at the first adjustment and hit the eject button.
Neg-am loans are now illegal, and I haven't seen or heard of any ez-qual loans available at conforming rates – everybody who bought a house in the last nine years had to prove they could afford it, and their payment is fixed.  Besides, we learned last time that just because their home value went down, people don't panic and sell their house as long as they can afford it.  People have to live somewhere, and we like it here.  If a full-blown depression happened and we had another run of defaults, the government will provide another safety net and just tell banks not to foreclose.
If rates go up to 5% or 6%, it will probably stall the market, causing prices to bounce around.  But there won't be enough sellers who will dump on price that it would cause a major event.  There could be a skirmish here and there caused by boomer liquidations occasionally.  But that's it.