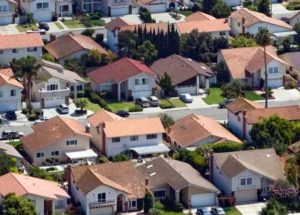 Watch out for those investment groups – hat tip Richard!
A federal complaint accuses an Irvine real estate firm and its executives of siphoning off proceeds from a house-flipping venture financed largely from investors' retirement savings funds.
Hoplon Financial Group and its two top executives — Hoplon founder and Chief Executive Daniel Benjamin Vazquez Sr., 56, of Orange County and Hoplon Chief Operating Officer Gilbert Fluetsch, 52, of Escondido — are accused of numerous securities violations in a U.S. Securities & Exchange Commission complaint filed Friday, Jan. 12.
Vazquez and Fluetsch couldn't be reached for comment. Nor could Hoplon Financial Group be reached at the phone number posted on its website.
"Our goal is to protect our clients' assets and safeguard what they have worked hard to build," Hoplon's LinkedIn page says.
According to the SEC complaint, filed in federal court in Santa Ana, Vazquez and his companies pitched their services to investors found through cold-calling and asking them to roll over their 401(k) retirement accounts into individual retirement accounts handled by brokers he was associated with.
Twenty-seven investors put up $2.18 million from 2011 to 2014 after Vazquez and Fluetsch promised their money would be used to purchase and renovate homes in a venture called the New Economic Opportunities Fund LLC, or NEON.
"In reality, they were draining most of the money from NEON's accounts for their own purposes," the complaint contends.
NEON purchased eight Southern California properties in 2012 and 2013, spending more than $767,000 on repairs. Subsequent sales generated $917,322 in profits, all of which were diverted to Hoplon.
"As of today, NEON has no known assets. All funds in its bank accounts have been depleted, and it holds no properties in its name," the complaint said.
Under terms of the offering, Hoplon, Vazquez and Fluetsch were entitled to $188,197 in compensation for managing NEON, but diverted $968,436 to Hoplon and themselves.
In addition, the complaint said, NEON funds were used to pay Hoplon expenses, to cover payments for luxury cars Hoplon purchased or leased for Vazquez' and Fluetsch's use, and to cover such personal expenses as sports club memberships.
The complaint said $59,000 in NEON funds were diverted to pay for property improvements on Vazquez' home and $6,500 more was spent on work performed on Fluetsch's house.
Hoplon, Vazquez and Fluetsch "misused substantial amounts of NEON funds, resulting in a total loss to investors," the complaint said.
Link to Article