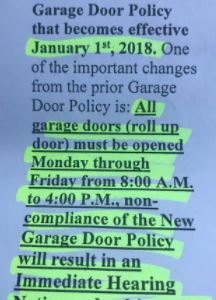 The housing shortage is finding new solutions everywhere, but not all of them are as sane as you might think.  Hat tip SM!
A Placer County homeowners association is mandating that its residents keep their garage doors open throughout the day during the workweek.
The policy, according to a notice taped to residents' doors, states that people who live in Auburn Greens face "an immediate hearing notice and subjected to a $200 fine" if they do not comply. The notice states the policy was enacted in October.
According to board member Norma Brewer, the policy was put in place after it was discovered that a resident was allowing people to live in his or her garage. She would not comment beyond that.
"That's an issue that they should address differently, I feel," said Fred Waidtlow, who owns one of the units in the community.
Waidtlow cleaned out his garage Thursday and moved personal belongings inside his unit as he voiced frustration with the policy.
"If we have to have this open from 8 in the morning to 4 in the afternoon, anybody can help themselves and steal you blind. And they do it in this Auburn Greens complex," he said.
Others echoed that sentiment.
"This will just be an open door policy and saying, 'Welcome, take what you want,'" said neighbor Shally Ia, who plans to keep her garage door closed.
Auburn Greens' on-site management closed its window as KCRA 3 pulled into the parking lot and subsequently posted a sign saying the office was closed. A phone call to the office was not returned.
Read full article here