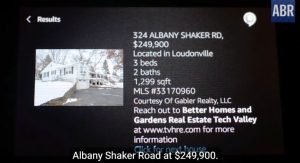 The way people digest their real estate listings has evolved over time, and Alexa looks like it will be the next whiz-bang option.  But somebody still needs to do the selling.
Read full article here:
Excerpts:
A year ago people were telling Miguel Berger he's crazy to spend money creating software for the Amazon Echo, enabling users to search for homes with the voice command, "Alexa, open real estate."
"People were making fun of me," said Berger, president of Better Homes & Gardens Real Estate Tech Valley in Colonie, New York. "They were saying this is nuts. It's not going to fly."
They were wrong.
The investment has started to pay off for Berger and his son, Ami, who formed Voiceter Pro LLC and now have agreements with real estate brokers and multiple listing services in Albany; Boston; Phoenix; Fort Myers and Naples, Florida; Long Island; Staten Island; and Brighton, Michigan.
More cities and regions are on the way.
So far, the skills developed by Voiceter Pro have been spoken 4,000 to 5,000 times. The number may be small, but Berger said usage has jumped 20 to 30 percent over the past six months. He's convinced it will grow even bigger as other markets are added, speech recognition improves and becomes more commonplace.
"All the BMWs in 2018 will have Alexa built into it," he said. "Your fridge will be sending you text messages saying you need eggs. It's going to be part of your life. I truly believe it."
The technology could soon hit a tipping point similar to what happened with smartphones a decade ago. Amazon's Echo and other virtual assistants were among the best-selling gifts for Christmas, with "tens of millions" sold, according to the company.
The developer of a luxury apartment building in New York City is installing voice-activated devices in every unit.
"A year ago you didn't know who Alexa was," Berger said. "Now, everybody is aware of it."
The next frontier is combining voice and visuals in the Echo Show, which has a display screen. Now, users can see pictures, a critical feature in any online home search. The Bergers quickly embraced the concept when Amazon cut the price for the Echo Show before Christmas from $229 to $149.
The article has a video that demonstrates the device: