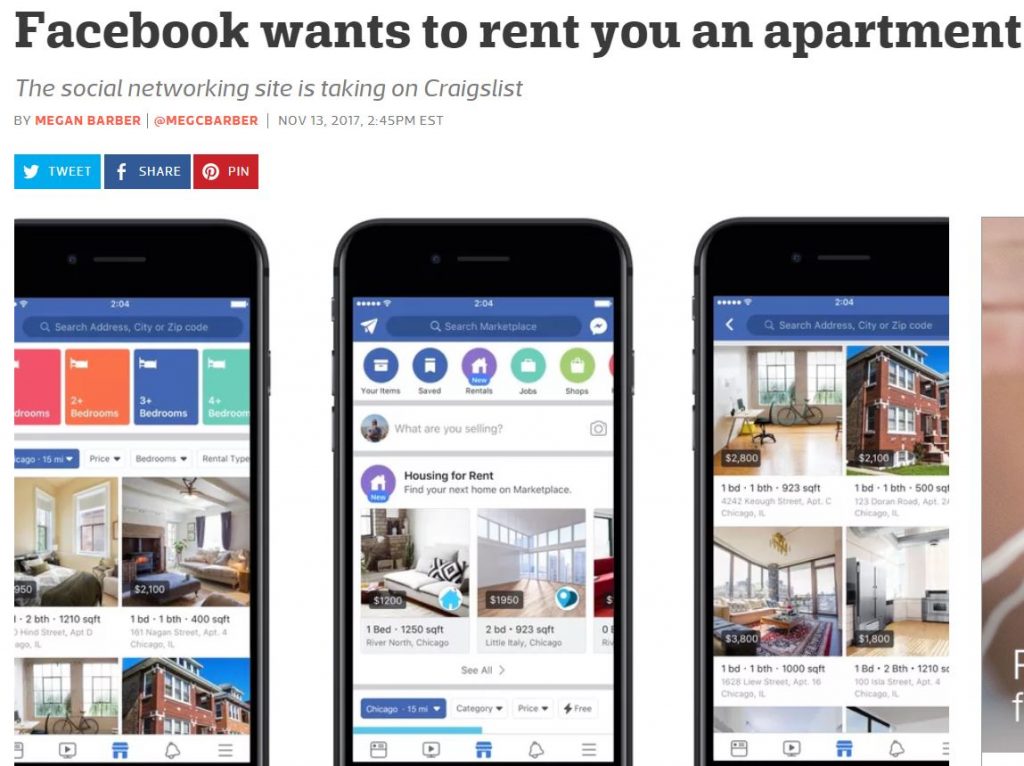 Advertising houses for sale on Marketplace can't be far off now – will some sort of brokerage or mortgage services be next?
Last week, Facebook announced that U.S. users are able to search for housing rentals on its Marketplace platform. Like Craigslist, Facebook Marketplace—which launched in 2016—lets users buy and sell items nearby.
Now, not only can you sell an old couch, but also you can search for apartments and houses based on things like location, price, size, the number of bedrooms, and even if an apartment is animal friendly.
The housing section will include "hundreds of thousands of rentals" that go beyond the individual listings previously posted by users. Facebook has partnered with sources like Apartment List and Zumper to pull in listings. Other people—think brokers, agents, and property managers—can also post properties available for rent. Landlords can add 360-degree photos to each listing so that interested renters can take a virtual tour.
"Marketplace is a popular place for people to look for a home to rent," said Facebook's Bowen Pan. "Now that we're adding listings from Apartment List and Zumper, people can search even more options in the U.S. to find a place to call home. First with vehicles and now with housing rentals, we're partnering with businesses to bring more ease and convenience for consumers."
Facebook's latest announcement is part of a larger plan to keep users in the app longer and to function as a one-stop commerce platform for food, shopping, and even job hunts. Recently, Facebook upgraded Marketplace to include used car ads, and the continued expansion is in direct competition to longtime sites like Craigslist.