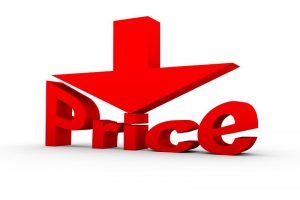 It's the time of year when we see some price adjustments by agents who have tried everything else, to no avail.  But how much do you need to reduce the price to cause a sale?
Ideally, it needs to be enough to cause buyers who have already seen the house to come back – that's how you know for sure that the new price is working.
But have you noticed that every price reduction is advertised as 'Huge'?
Price-Reduction Guide:
'Huge' = 10% or more reduction in price.
The minimum effective reduction = 5% reduction.
Typical reduction = 1% to 2%.
Fake reduction = moving the value-range goalposts.
Buyers are already thinking of knocking off more than 1% or 2%, and to be effective, a price reduction needs to create some real urgency in the buyers – to make them think that if they don't react immediately, somebody else might beat them to it.  The 1% or 2% reductions aren't enough to create any extra urgency, and as a result, are just throwing money away.
In addition, a new, lower list price will be cross-referenced by the buyers with the days-on-market.  They expect at least one decent price reduction per month to keep them interested.
Want it to work?  Lower your price by an amount that makes you cringe!