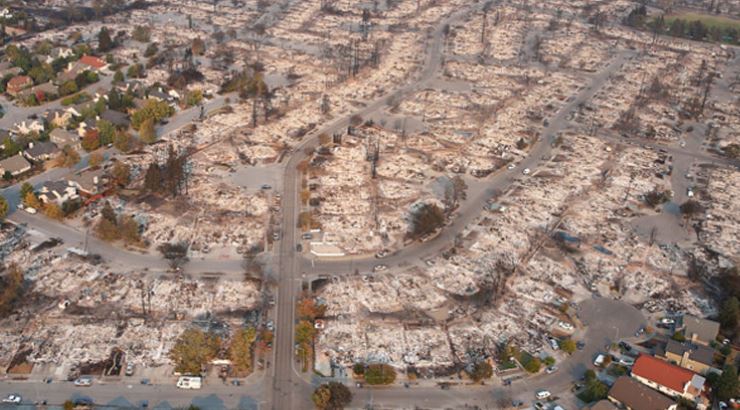 An article that details some of the impact from the fires.  The area had a 1% vacancy rate, so for people who got burned out, there is no place to go.  If only half of the residents rebuild, then there will be ample opportunities for new people to get in, but at what price?
https://www.realtor.com/news/trends/wildfires/
An excerpt:
The median home price in Napa County was a whopping $876,200 on Sept. 1, according to realtor.com® data. In neighboring Sonoma County, the median home price was $750,000. But that was before the fires.
More than 172,000 homes are now at risk of going up in flames in the Napa and Santa Rosa metropolitan areas, which are usually not prone to wildfires, according to an analysis from CoreLogic. (Napa is the name of a town as well as of the surrounding county.) It will cost an estimated $65 billion or more to rebuild them.
Californians are just beginning to come to grips with the scope of the disaster.
"Multiple neighborhoods are burnt out," says Randall Bell, CEO of the national real estate appraisal firm Landmark Research Group, based in Laguna Beach, CA, which has assessed areas damaged by wildfires. "It's street upon street of just charred-to-the-ground moonscape. All you see are chimneys and foundations. It's a sad sight—and you see hundreds of them."
Only about a quarter to half of the original residents whose homes were reduced to ash are likely to return and rebuild, Bell predicts.
"Emotionally they're overwhelmed. Financially, they're overwhelmed," he says. "When these fires come through, they don't just burn houses. They burn stores, restaurants, the churches, the schools. They burn everything. You may rebuild a house, but where's your infrastructure?"
Lee, the real estate agent whose Santa Rosa home burned down, doesn't plan to rebuild. He and his wife plan to move to Kentucky, TN, or North Carolina, where they have friends who might be able to find him work.
"I've started an insurance claim and hopefully I'll do well. … [But] I'm a real estate agent and there's nothing to sell anymore," he says. "I'm starting over from scratch at 63 with achy joints and an achy back."
Even homeowners with insurance premiums may not get enough money to rebuild their entire homes to what they were before, Bell says. That's because the price of construction is likely to skyrocket with the extra demand for construction workers, for which there is currently a national shortage compounded by Hurricanes Harvey and Irma, and building materials. Some will get loans, others will tap into their savings.
Those who do rebuild are in for the long haul. The area is expected to recover only about 10% to 15% each year, according to Bell. That means it's likely to take five to 10 years before homes, businesses (including employment and tourism), and the local infrastructure is back to normal.
Plus, they'll have to find a place to live while they rebuild—which won't be an easy feat.
"We had a housing crisis before the fire," says Santa Rosa–based Realtor® Daphne Peterson, of Keller Williams Realty. "We're in a very high-cost area. Our vacancy rate was about 1%. Now we've lost about 1,500 to 2,000 homes. We have no place for people to stay."
Homeowners who decide to sell won't have it easy, either. Those whose homes survived should expect the properties to sell at a 10% to 35% discount. That's because it's not as desirable to live near burnt-out houses or with fewer services and businesses nearby.
"People don't buy a house," Bell says. "They buy a neighborhood."
Meanwhile, properties whose homes were charred or destroyed altogether could see discounts as high as 60%, he says. Sellers should expect an army of investors, a combination of home flippers and landlords, to swoop in.
But the price breaks won't last forever. These will likely dissipate after about five years, he says.