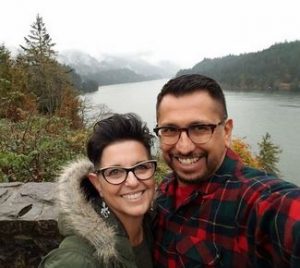 Examples of people who moved away, with good and bad results:
Raya and Michael DeMarquez both grew up in San Jose, got married here, raised their kids here, bought a house here more than 20 years ago and felt settled in the Bay Area life — for life.
Then they lost that house after the 2008 recession, lost their jobs. In the ensuing years, they worked hard to put things back together, rebuilding their careers, renting a house. Yet all the while, they sensed the encroaching costs of change: the tech boom, the swelling prices, the thickening traffic, the culture shift. They started to feel like outsiders in their own home town.
So in 2015 they did something they never would have considered a decade before. They moved. Away.
To Portland, Oregon, in fact, as many Californians have done, often to the chagrin of Oregonians. And while there have been some adjustments and trade-offs (think weather), they're truly happy they did it.
"We'd never go back to San Jose," says Raya DeMarquez. "We'll see if (Portland) is where we'll stay. We're giving it through this winter to decide if we can handle the weather — it was rough last year.
"But we'd never move back," she says. "Never."
Read full article here:
http://www.mercurynews.com/2017/09/16/leaving-the-bay-area-these-folks-did-it-with-mixed-results/