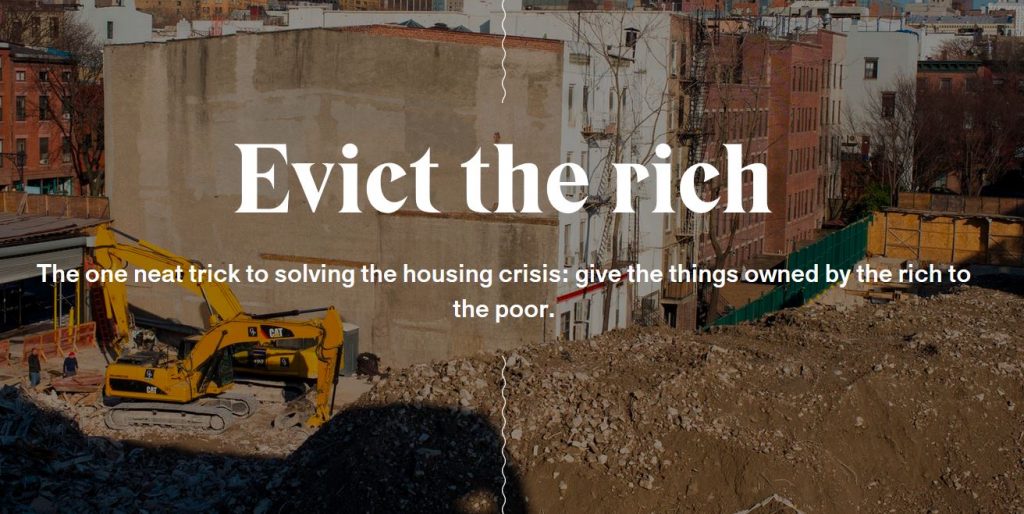 An interesting essay on today's housing crisis – thanks daytrip!
But the pushers of market-friendly solutions, and even most affordable housing activists, miss a central point in the housing debate: we already have enough housing in this country.
The problem is not supply. It's that the supply is owned by the wrong people.
From downtowns to suburbs, there's a glut of vacant housing and land owned by the rich. The one neat trick to solving the housing crisis: give the things owned by the rich to the poor.
The richest neighborhoods in many cities are also some of the most vacant. If you walk around Midtown Manhattan or Downtown Brooklyn on a weekday evening and look up at all the residential luxury skyscrapers that have cropped up in the last decade, you might notice they're relatively dark.
In the stretch of Manhattan between Park and Fifth Avenues and 56th and 59th Streets, 57 percent of apartments were vacant at least ten months a year, according to a New York Times analysis based on data from 2012. Buildings from 60th Street to 63rd Street were also only around 50 percent occupied.
Across the country, even in smaller cities, downtowns are being filled with tall, expensive, and often empty apartment buildings. The apartments in the flashiest of these buildings, like the towers rising along 57th Street in New York (now sometimes called Billionaire's Row) are often bought by the LLCs of the uber-rich, and they're used more as investment opportunities than as places to live.
So why do we keep building so much vacant luxury housing? It's a simple function of how capitalist land markets work.
With demand for housing high and government intervention and spending on affordable housing low, land prices have no reason to drop. If a developer buys a plot of land in, say, Cleveland for $1 million, there's no reason the lot next to his or hers will be sold for less per square foot, and so whatever developer purchases that land will have to build something that extracts $1 million, plus profits, in rents or sales.
This is not a new phenomenon — it's one of the central theses of Frederick Engels' 1872 treatise, "The Housing Question:" if there's no purposeful depression of prices on land, housing prices have no reason to become cheap. The land at the center of cities will always go up, until they are unaffordable to everyone but the richest.
Read full article here: