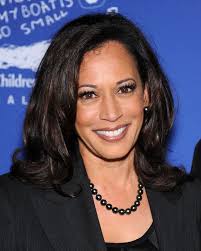 Kamala Harris, who has been dubbed the 'female Obama', is likely to run for president of the United States – possibly as soon as 2020.  This is a long article on her performance in public office:
This excerpt summarizes the impact from her $20 billion foreclosure settlement – another example of how the bankers got a slap on the wrist:
The deal Harris got for California was ultimately much better. It provided $18.4 billion in debt relief and $2 billion in other financial assistance, as well as incentives for relief to center on the hardest hit counties. This is particularly impressive when one considers the banks had originally only offered California, the state hardest hit by the housing crisis and fraud, $2-4 billion.
Nonetheless, the settlement was woefully inadequate. For one, while the $20 billion total sounds good, it was a fraction of what the banks would have had to pay to compensate for all of their malfeasance. For instance, investors had won $8.5 billion in a settlement with Bank of America over mortgage securities backed by faulty loans.
Secondly, the banks themselves paid very little — only around $5 billion, with most of the settlement involving the banks modifying loans owned by others, such as pension funds, who had nothing to do with the misconduct that necessitated the deal. In terms of direct financial relief, underwater homeowners — weighed down by average debt of close to $65,000 each — received around $1,500 to $2,000 each. One called it "a slap in the face for a lot of us."
Moreover, more than half of the $9.2 billion in principal loan forgiveness in the state went to second mortgages, and many of those were already delinquent. While it did benefit homeowners, it also meant, as one economist told the LA Times, that in practice the banks "were writing off loans that were essentially dead." A year later, only one-fifth of the aid went to first-mortgage principal forgiveness. And even at the end of this, just 84,102 California families had any mortgage debt forgiven — far short of the 250,000 originally predicted.
On top of this, under the deal, loans owned by Fannie Mae and Freddie Mac didn't qualify for the debt relief. Given they were the country's biggest mortgage holders, this meant even fewer homeowners stood to benefit from the deal.
Harris explained that while the deal was imperfect, she was forced to make do as the clock was ticking. "Every day there are homeowners in California who will either receive relief so they can stay in their home, or will be in the foreclosure process and potentially lose their home," she said. "And that always weighed heavily on my mind."
Rob McKenna, one of the lead negotiators on the settlement said that "at some point you have to decide that it's more important to get relief to consumers sooner than to get more through the court." Similarly, journalist David Dayen believed Harris had "played a bad hand relatively well," and that prosecuting would have taken more time and a bigger coalition of prosecutors than she had at the time.
Still, there were numerous critics. Writing in the LA Times, Michael Hiltzik savaged the deal and what he called the "rosy self-congratulation" that followed it, particularly the new foreclosure standards it imposed, which he called a "big whoop." "The provisions mostly require mortgage lenders and servicers to comply with what I would have thought was already the law, which prohibits, you know, criminal fraud," he wrote.
"This settlement is yet another raw demonstration of who wields power in America," wrote Susan Webber. "It adds insult to injury to see some try to depict it as a win for long suffering, still abused homeowners." "There's virtually no benefit to borrowers, and yet you give the banks credit for short sales and getting second liens wiped out — something they were going to have to do anyway," complained Bruce Marks, founder of housing counseling group Neighborhood Assistance Corp. of America.
More importantly, ordinary homeowners who had been shafted by the banks remained angry. During Harris's Senate campaign, her opponent was flanked by members of Occupy Fights Foreclosures, an outgrowth of Occupy LA, as she criticized Harris (however disingenuously) for not prosecuting a single top bank executive. The group had earlier written Harris a letter calling for her to implement a moratorium on foreclosures until she finished investigating fraud. Frustrated homeowners complained of being denied meetings with Harris over the span of years, and protested at the 2015 California Democrats State Convention.
There was no better symbol of Harris's inability to hold the people behind the foreclosure fraud to account than her Mortgage Fraud Strike Force. Opened to much fanfare in 2011 and employing twenty-five Department of Justice lawyers and investigators with a budget of more than $2 million to go after foreclosure fraud, the strike force managed to prosecute just ten cases in three years, an East Bay Express investigation in 2014 found.
The paper found that not only had the strike force prosecuted less foreclosure fraud cases than many other states, but it had filed fewer lawsuits than attorneys general in smaller states with fewer victims, and even fewer than some county district attorneys. Yet California led the country in terms of such scam operations, with many thousands of complaints since 2010. One housing rights activist who had lost his home in a fraud called the strike force a "public relations effort."
Harris has repeatedly said she was limited in what she could do. When a man at the 2016 California Democratic Party convention asked her, "How many bankers went to jail?" she said they did the best with what evidence there was. "I too, like most Americans, am frustrated. Clearly crimes occurred and people should go to jail," she told the LA Times last year. "But we went where the evidence took us."
This demonstrably wasn't always the case, however. Earlier this year, the Intercept obtained a 2013 memo to Harris from prosecutors in the attorney general's office saying they had "uncovered evidence suggestive of widespread misconduct" at OneWest Best, and urging Harris to "conduct a full investigation of a national bank's misconduct and provide a public accounting of what happened." Yet Harris never did. (Coincidentally, Harris was the only Democratic Senate candidate in 2016 to get a donation from Steven Mnuchin, OneWest's former CEO).
One has to wonder whether there are other, similar memos out there, and how many.
Read full article here: