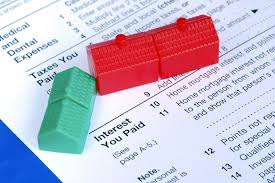 The Wall Street Journal published this article about the mortgage-interest deduction having little – or no – impact on the decisions made by homebuyers:
Of course, the N.A.R., who is beholden to our lobbyists, refuses to consider any changes.  The N.A.R. spent $64,821,111 last year on lobbying – we should quit paying them and spend that money on a rocking real estate portal that benefits all realtors!
Instead, our beleaguered president shuffled up to the podium one more time to vomit the usual beliefs, whether true or not:
The mortgage interest deduction, backed by the influential nationwide lobbying of real-estate agents and home builders warning against precipitous price drops, has survived decades of attacks and is extremely unlikely to vanish this year.
William Brown, president of the National Association of Realtors, said that removing incentives for homeownership, including the mortgage interest deduction, would be a mistake.
"Studies comparing our housing market to that of a foreign country offer an apples-to-oranges scenario that often isn't constructive," Mr. Brown said in a statement. "What we know for sure is that home values would suffer if the mortgage interest deduction disappeared, potentially putting homeowners under water."
Curbing the deduction would give cash buyers an advantage, said Robert Dietz, chief economist at the National Association of Home Builders.
President Donald Trump has promised to protect the mortgage interest deduction. But even under the plans from Mr. Trump and congressional Republicans, the deduction could lose some of its punch.
With mortgage rates so low, the actual benefit isn't what it used to be. In addition, wouldn't rising rents and getting rich quick be bigger motivators than the MID?  Have you noticed that you never hear banks arguing for the MID?