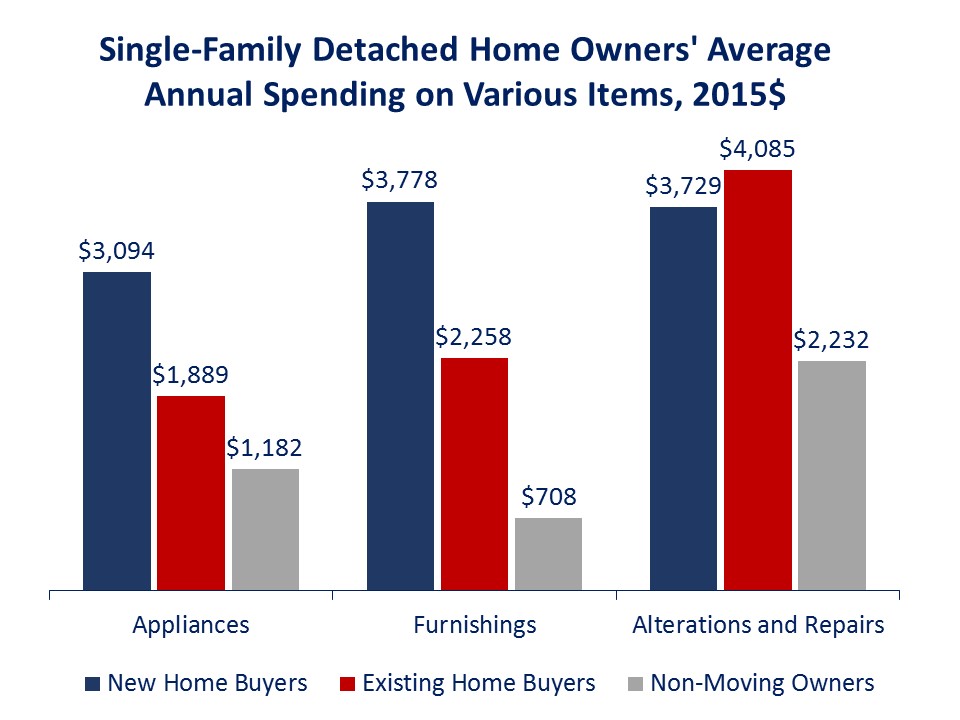 Buying a house just gets you started – there are the other goodies too.  In the tony coastal regions, add a zero to these numbers!
http://www.mortgagenewsdaily.com/07132017_home_buying_behavior.asp
An excerpt:
Specifically what do home buyers purchase?
The biggest ticket item for new home buyers is sofas, spending an average of over $700, 60 percent more than spent by buyers of existing homes and 6.4 times more than spent by non-movers in a year.  There is also a large effect on purchases of living room (other than sofas), dining room, and kitchen furniture with new home buyers spending $687 on living room chairs/tables and another $345 on kitchen and dining room future, outspending existing home buyers 12 to 1 in both categories and non-buyers by 5 and 9 times respectively.
The differences in spending patterns are similarly large when comparing spending on window coverings. New home buyers spend 10 time more than existing home buyers and 4 times more than non-buyers.
The biggest outlay in the appliance budget of new home buyers are for laundry equipment, landscaping equipment and computer hardware/systems. They outspend both existing home buyers and non-buyers on all of these and on big-ticket items like refrigerators and televisions as well.
The high level of appliance spending may seem surprising given that many new homes come equipped with them.  However, she cites a survey by the Home Innovation Research Labs found that two-thirds of new homes built in 2015 came without laundry appliances and 36 percent had no installed refrigerator.
Also unexpected, new home buyers spend almost as much ($3,729) as existing homes buyers ($4,085) and outspend non-moving owners ($2,232) on property alterations and repairs, but they spend on quite different things.  Existing home buyers and non-movers spend more on various repairs and replacements and on kitchen/bathroom renovations and purchase and installation of new systems while new home owners spend on outside additions and alterations, including new driveways, walks, or fences.
The analysis further shows that home buyers don't compensate for their higher level of spending by cutting back on other things like entertainment, travel, restaurants meals, etc. "This confirms that home buying indeed generates a wave of additional spending and activity not accounted for in the purchase price of the home alone," NAHB says.