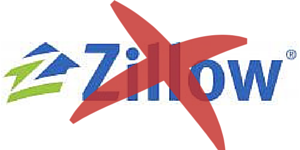 For those of you who use Zillow as their go-to real estate portal, you may have noticed that we had a wild and wacky weekend – and the party is still going!
It was on May 1st that Zillow started uploading our listings directly from our MLS, Sandicor.  The new system prevents agents from inputting new listings, or marking our existing listings as pending.
On Friday there was a breakdown in the uploading process, but it wasn't across the board.  Here are the real estate companies and the effects:
Coldwell and Berkshire – they both had their corporate direct feeds set up before May 1st, and it looks like they are running fine.
Sotheby's – some new listings have been uploaded since Friday, and some haven't. No rhyme or reason as to who was affected.
It looks like all other companies are NOT having their listings uploaded to Zillow, nor are they being marked pending automatically like they were previously – and you can't do it manually either.
I did open house in La Jolla both Saturday and Sunday, and I had visitors on both days asking why my listing wasn't on Zillow.
It's a mess, and let's add these extras too:
The problem previously reported here about how listings get deleted on Zillow once they are marked pending in the MLS has not been resolved.
More and more people are inputting their listings on CRMLS (the SoCal alternative MLS), which leads to duplicate listings which screw up the MLS stats but at least the listings are accurate on Zillow.
The mix-up is isolated to the San Diego market, and could be part of the uneasy union between Zillow and Sandicor, who was a reluctant partner in the past.
But both entities stated publicly that this auto-upload package was good for all, and a big step towards accuracy on Zillow.  We'll see how long it takes them to fix it – today is Day 6.
For those who think this might be an opportunity for a competitor to take advantage, read this:
http://www.notorious-rob.com/2017/07/random-thoughts-on-redfin-going-public/
Save