On May 1st, Sandicor, our MLS for San Diego, began automatically uploading our listings to Zillow in an effort to improve accuracy.
This is how Zillow advertises the pending sales in Orange County, which is how they were presented in San Diego prior to May 1st: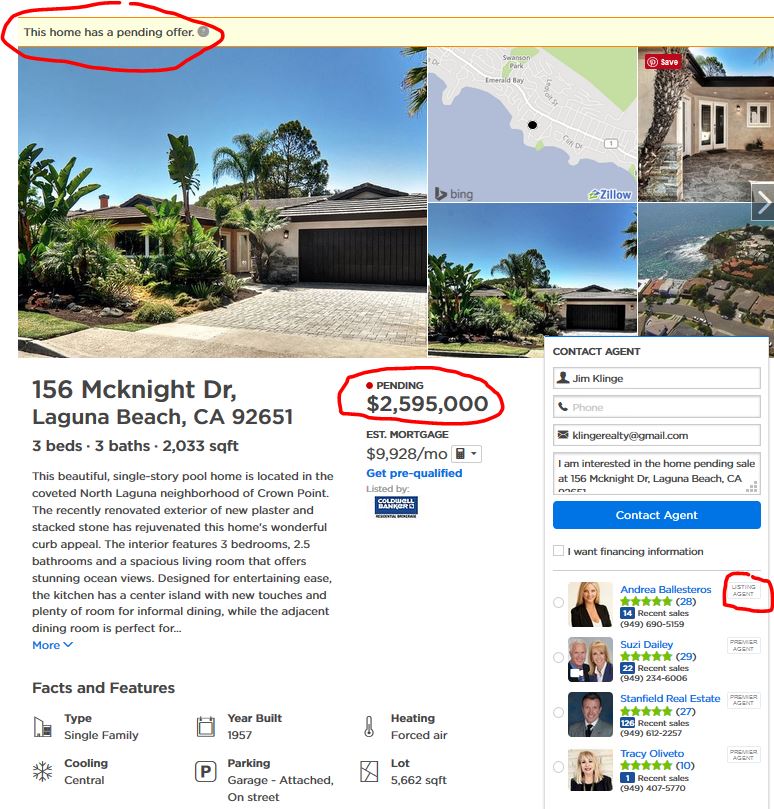 They leave the list price at the top, which is helpful for searchers who knew the house was for sale but didn't know the how much.
They make it clear that that the home is pending, which is good for their accuracy, and they mention the listing agent, with a phone number, along with the three-headed monster on the right.
Here is how Zillow has been marking our pending sales since May 1st: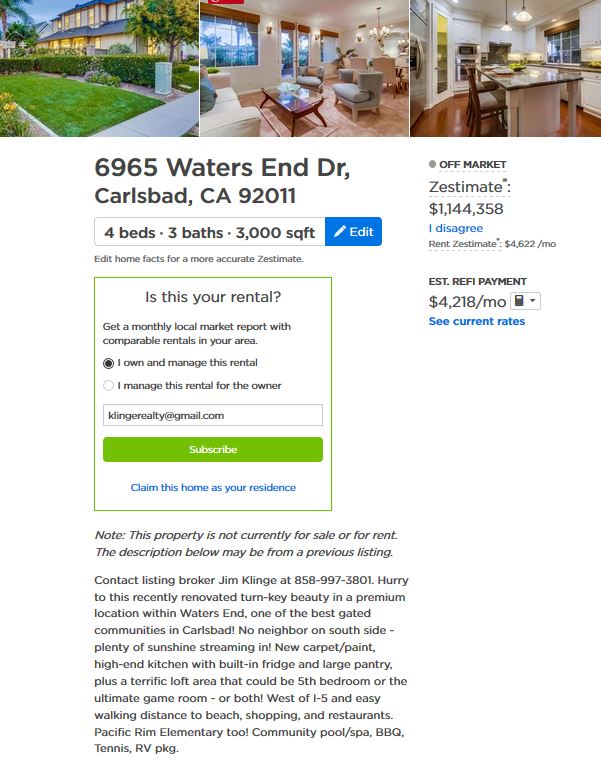 If you were a casual observer, you wouldn't learn much about this home.
No list price.
No 'pending' banner (or anything about it being for sale or not).
No listing-agent info (except I've learned to put my name in the first line of the remarks).
No three-headed monster (three agents who pay for advertising).
If you were told about a new listing on this street and checked Zillow for more info, they now give you nothing!  What's worse is they have captured my photos and remarks, but now prevent me from editing.
It's not just me – I checked some of highest-spending Zillow agents, and they are getting the same treatment.
Is it just an oversight in the transition?
After a couple of inquiries, a Zillow rep did respond today, and said I should probably check with my MLS to fix it.  Thanks a million.
There is a work-around. Join the CRMLS (which provides the MLS for the rest of Southern California), input your listings there, and then Zillow will reflect them when pending.
Until then, our listing accuracy has gone backwards in San Diego!
It may not seem like much, but listing agents are judged by their online presence. When potential sellers see our listings without prices, for-sale status, or even the listing agent mentioned, they will think that we won't be doing much for them either.  But it is out of our control – Sandicor and Zillow are running this circus!