We've all seen houses selling fast – what is the main takeaway?  Buyers aren't gaining any negotiating power.
http://www.realtor.com/news/trends/hottest-markets-real-estate-march-2017/
College students may be flocking to Cancun, Mexico, or Panama City Beach, FL, but a look at preliminary realtor.com® data for March makes it clear that there's no spring break anywhere on the horizon for the real estate market.
Instead, the buying season's annual spring jump-start came about a month earlier than usual, with homes expected to hop off the market 22 days faster than last month, or 69 days. That's eight days faster than last year. And that's a lot.
"Calendars might say this is the first week of spring, but we're already right in the thick of the most frenzied spring home-buying season on record," said Javier Vivas, manager of economic research at realtor.com.
The realtor.com economic data team analyzed our data for the country's largest metropolitan markets to find those where buyers are clicking up a storm on our listings and where homes are speeding off the market like they're late for a flight to the islands. These markets may seem like a tough nut to crack for buyers, but homes there are likely to be a good investment.
Maintaining its perch atop the ranking for the second month in a row is the San Francisco Bay Area city of Vallejo, followed by San Francisco itself. Mind you, when we talk about these metropolitan markets, they typically include other satellite cities—the San Francisco market encompasses Oakland and Hayward, and No. 3 Dallas includes Fort Worth and Arlington.
New to the top 20 in March were Santa Cruz, CA; Fort Wayne, IN; and Grand Rapids and Ann Arbor in Michigan. Let's check out the rest!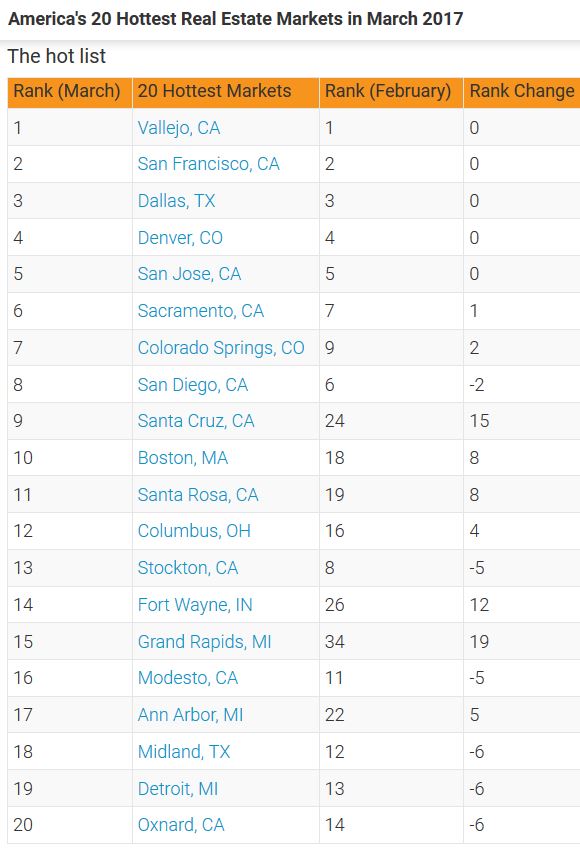 They said that houses nationwide are selling eight days faster than last year.  Let's compare our own local stats to March 2016, and include our hottest frenzy year, 2013, as well:
| | | | | | | |
| --- | --- | --- | --- | --- | --- | --- |
| Days on Market – March | 2013 Median | Avg | 2016 Med | Avg | 2017 Med | Avg |
| NSDCC | 17 | 49 | 22 | 42 | 14 | 42 |
| SD County | 21 | 55 | 18 | 39 | 14 | 34 |
In spite of this month's NSDCC median sales price being 33% higher, and mortgage rates about 5/8% higher than they were in March, 2013, houses are selling faster!