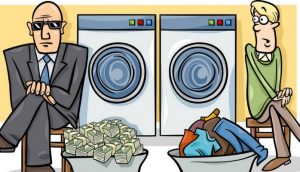 An earlier quote was that 50% of high-end sales were believed to be done with laundered money.  Below is the official quote from FinCEN – and they have extended their inquiry.
Note: In the last 12 months, there have been 774 closed sales over $2,000,000 in San Diego County – and 360 of those were all-cash.
Hat tip daytrip!
http://wolfstreet.com/2017/02/24/how-much-money-laundering-in-us-housing-market/
The US housing market has been a perfect platform to launder large amounts of money, no questions asked. Brokers, banks, and other industry professionals played along. There were no reporting requirements. Everyone in the world knew it. And they came to launder their cash by buying expensive homes.
But FinCEN, via its evocatively named Geographic Targeting Orders (GTO), wants to know who these opaque homebuyers are. To find out, the GTOs "temporarily require US title insurance companies to identify the natural persons behind shell companies used to pay 'all cash' [i.e. without bank financing] for high-end residential real estate in six major metropolitan areas."
FinCEN is soliciting the help of title insurance companies "because title insurance is a common feature in the vast majority of real estate transactions," and these companies can provide "valuable information about real estate transactions of concern."
In its July announcement, when the program  was expanded from two metros – Manhattan and Miami Data – to six metros (including San Diego County), FinCEN Acting Director Jamal El-Hindi wouldn't say to what extent money laundering was involved, but he did throw in a tantalizing tidbit: "The information we have obtained from our initial GTOs suggests that we are on the right track."
This time around, FinCEN gave a number, a percentage of "suspicious activity":
FinCEN has found that about 30% of the transactions covered by the GTOs involve a beneficial owner or purchaser representative that is also the subject of a previous suspicious activity report. This corroborates FinCEN's concerns about the use of shell companies to buy luxury real estate in "all-cash" transactions.