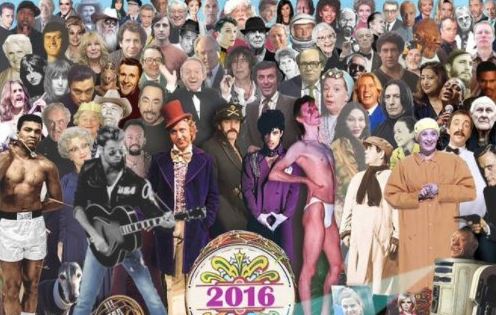 This year won't be over soon enough for music legends!
George Michael's 'Faith' won the Grammy of Album of the Year in 1989, sold over 100 million albums world-wide (only 24 artists/bands have done that) and had eight #1 hits on Billboard Hot 100 in the U.S.  This is one of his best live performances on Youtube – can you imagine if he would  have toured with Queen, a la Adam Lambert:
The Freddie Mercury Tribute Concert for AIDS Awareness was an open-air concert held on Easter Monday, 20 April 1992 at London's Wembley Stadium, for an audience of 72.000. The concert was produced for television by Ray Burdis and broadcast live on television and radio to 76 countries around the world. The concert was a tribute to the life of the late Queen frontman, Freddie Mercury, with all proceeds going to AIDS research. The show marked bassist John Deacon's final concert with Queen (save one live appearance with Brian May, Roger Taylor and Elton John in 1997). The profits from the concert were used to launch The Mercury Phoenix Trust AIDS charity organisation. The concert began with short sets from bands that were influenced by the music of Queen (including many hard rock and heavy metal bands), including Metallica, Extreme (playing a Queen medley), Def Leppard (who brought Brian May onstage for a faithful version of "Now I'm Here"), and Guns N' Roses. Between bands, several video clips honouring Freddie Mercury were shown, while the roadies changed the stage for the following act's performance. The second half of the concert featured the three remaining Queen members – John Deacon (on bass), Brian May (on guitar) and Roger Taylor (on drums) – along with guest singers and guitarists, including Elton John, Roger Daltrey (The Who), Tony Iommi (Black Sabbath), David Bowie, Mick Ronson (Spiders from Mars), James Hetfield (Metallica), George Michael, Seal, Paul Young, Annie Lennox, Lisa Stansfield, Robert Plant (Led Zeppelin), Joe Elliott and Phil Collen (Def Leppard), Axl Rose and Slash (Guns N' Roses), Liza Minnelli, and others. U2 dedicated a live performance via satellite from Tacoma, WA of "Until the End of the World" to Mercury.