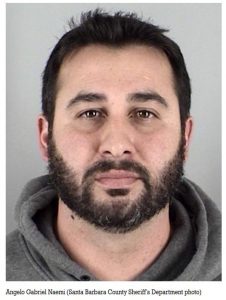 The district attorney went back a few years here.  Hat tip to daytrip!
https://www.noozhawk.com/article/santa_maria_men_charged_real_estate_fraud_case
Two Santa Maria men have been charged with allegedly committing real estate fraud involving losses topping $500,000, the Santa Barbara County District Attorney's Office said Thursday.
Angelo Gabriel Naemi, 36, was arrested for suspicion of five counts of grand theft by false pretenses, and one count of conspiracy to commit grand theft.
Steven Paul Gonzales, 61, was charged with one count of conspiracy to commit grand theft.
"The complaint alleges that Naemi, a real estate salesperson, and Gonzales, a real estate broker, conspired to falsify documents in association with numerous short sale transactions," the District Attorney's Office said. "Their actions allegedly resulted in a loss to Fannie Mae and Freddie Mac of over $500,000."
The complaint also includes special allegations for aggravated white collar crime and excessive losses.
The District Attorney's Office investigated this case in conjunction with the Federal Housing Finance Agency, Office of Inspector General, Los Angeles Field Office.
The allegations stem from deals spanning between 2012 and 2015 involving properties on the 1200 block of East Fesler Street and 1600 block of Chadwell Drive in Santa Maria, 800 block of West Fir Avenue in Lompoc, 300 block of Price Ranch Road in Los Alamos and the 500 block of Dawn Drive in Buellton.
Naemi's bail is set at $395,000, and he is scheduled to appear for arraignment in a Santa Barbara County Superior Court in Santa Maria on Thursday while Gonzales is scheduled for Dec. 30.
Gonzales was never booked into the County Jail, according to the Santa Barbara County Sheriff's Department, so no booking photo is available.
Gonzales became sole owner of CornerStone Real Estate in Santa Maria in 2012 while Naemi is listed as a sales associate with the firm.
In his biography on the business website, Gonzales is listed as "experienced in residential sales, short sales, income/commercial property sales, 1031 IRS tax deferred exchanges, business opportunities, commercial leases as well as new home construction."
After working as an engineer for Hughes Aircraft, Gonzales has been involved in real estate since 1988, the website says.
On his own website, Naemi states he moved to the Central Coast in 2004 from San Diego and previously worked in the Wells Fargo mortgage department before becoming a licensed real estate agent.