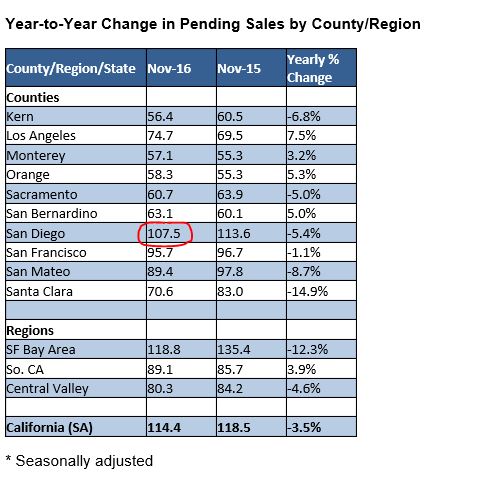 *Note:  C.A.R.'s pending sales information is generated from a survey of more than 70 associations of REALTORS® and MLSs throughout the state.  Pending home sales are forward-looking indicators of future home sales activity, offering solid information on future changes in the direction of the market.  A sale is listed as pending after a seller has accepted a sales contract on a property. The majority of pending home sales usually become closed sales transactions one to two months later.
The year 2008 was used as the benchmark for the Pending Homes Sales Index.
An index of 100 is equal to the average level of contract activity during 2008.
San Diego is the only county doing better than 2008?  Last November was when TRID hit, and delayed sales until December.  Let's keep that in mind as we watch the YoY data roll out.