To help guess about what might happen in 2017, let's look at the history of the San Diego Case-Shiller Index over the last five years.
The red marks are the January readings.
It looks like we have gotten off to a quick start the last three years, but I think this data backs up my theory that only the creampuffs are selling early on.
If you were a buyer coming into a new year, would you jump on a fixer in January or February?  Their prices probably aren't that attractive yet, and buyers want to wait-and-see if they can get better quality later. As the selling season evolves, the fixers start to sell after the creampuffs are pricing higher and the longer-lasting dumps get sharper on price.  With more fixer sales in the blend, the pricing statistics cool off.
The second half of this year hasn't seen the Case-Shiller reflect end-of-year improvement that we saw the last four years, but the last reading on this graph is for September, 2016 – which includes July and August data too.  We might see a pop in the Case-Shiller next week for the same reason – only the better quality homes are selling in the off-season.  Buyers would rather wait-and-see than buy a dump.
~~~~~~~~~~~~~~~~~~~~~~~~~~~~~~~~~~~~~~~~~~~~~~~~~~~~~~
Could the 'Trump-Effect' fuel a flurry of real estate activity next year?
This guy had some great thoughts:
https://www.linkedin.com/pulse/reflections-trump-presidency-one-month-after-election-ray-dalio
An excerpt:
This particular shift by the Trump administration could have a much bigger impact on the US economy than one would calculate on the basis of changes in tax and spending policies alone because it could ignite animal spirits and attract productive capital. Regarding igniting animal spirits, if this administration can spark a virtuous cycle in which people can make money, the move out of cash (that pays them virtually nothing) to risk-on investments could be huge. Regarding attracting capital, Trump's policies can also have a big impact because businessmen and investors move very quickly away from inhospitable environments to hospitable environments.
Any tax relief on the sale of real estate could free up more inventory – but not too much please, just a little more (+10% is perfect)!
~~~~~~~~~~~~~~~~~~~~~~~~~~~~~~~~~~~~~~~~~~~~~~~~~~~~~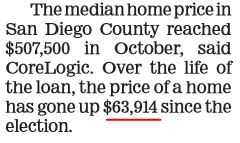 Yes, we do have that pesky little concern that higher rates could spoil the party.  But the buyers who are sensitive to higher rates, and/or adamant about getting some clawback on price, will just stay on the sidelines – especially in early 2017.  Our market has been dependent upon rich people keeping it going – we will need richer people to carry the ball next year.  But inheritances and gifts from parents are a powerful market force.