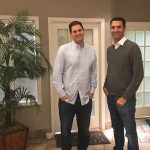 Sounds like Zillow's Make Me Move, but they charge 1.5% to 2.5% which sounds like a brokerage – and they are going to start it in New York.  Whoever spends millions on advertising could win:
http://markets.businessinsider.com/news/stocks/A-former-Wall-Street-exec-is-trying-to-do-to-real-estate-what-technology-did-to-stock-trading-1001595449
Jarred Kessler, a 15-year Wall Street veteran and former head of US equities at financial services firm Cantor Fitzgerald, came up with his big idea when a friend lost his job.
His friend was in a tough spot and thought about putting his house on the market, but didn't want the associated "public scrutiny" of a "For Sale" sign on his lawn or neighbors talking.
He wanted to keep it discreet, and he wanted to know the value of his home in case he needed to sell. He wanted to test the market without being in the market, Kessler told Business Insider.
Kessler realized that no other services currently on the market offered potential sellers a chance to quietly assess the value of their homes. Then, trouble with regulators at his Wall Street job pushed him to leave Cantor and create one.
Enter EasyKnock.
EasyKnock is a residential real estate technology startup on a mission to change the process of listing and selling one's home. It should be up and running by February.