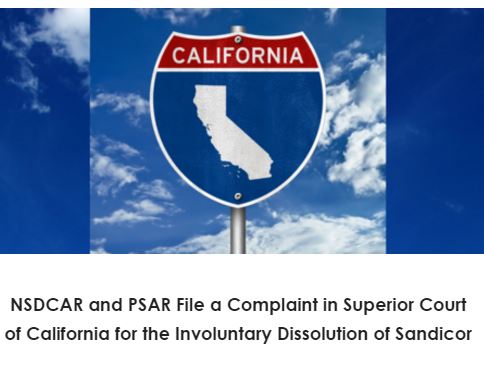 The paperwork has been filed to dissolve Sandicor, our local MLS company.
http://www.nsdcar.com/announcements/mls-faq.pdf
A bitter fight among the three partners has been brewing all year.  Two of the three associations of realtors, NSDCAR and PSAR, want to join the efforts of CRMLS and their 80,000+ agents and help create a statewide MLS.
Why join forces with CRMLS?
 Their MLS listings have more/better features.
 Their consumer-facing website is superior.
 Agents can have their listings uploaded to Zillow automatically.
 They have the size and power to fight Zillow if needed.
But the third partner, the Greater San Diego Association of Realtors, doesn't want to join up with CRMLS, and instead wants to create their own consumer-facing portal.  Earlier this year they filed a lawsuit against NSDCAR and PSAR in order to gain full access to Sandicor's listing data.
It's a mess.
Like with most divorces, the people involved decide to part ways, rather than to keep bickering when there are fundamental differences in place.
What will the dissolution of Sandicor mean for consumers and agents?
There might be some uncertainty about having reliable access to the MLS over the next 6-12 months.  For now, the plan is to keep Sandicor up and running while a data-share agreement is implemented with CRMLS, which will give agents access to a second MLS.
As long as SDAR cooperates with that effort, everything should be fine.
However, the SDAR lawsuit is likely to linger.  According to their complaint, they have spent hundreds of thousands of dollars building their own consumer-facing website, only to be denied access to MLS data.
The courts are being asked to find a solution.
The biggest problem – which was solved by the creation of Sandicor in 1991 – is to have all of the San Diego County MLS data in one place.  If Sandicor is dissolved, and SDAR won't join CRMLS, then SDAR will be left to create their own MLS.  Agents will have to go back to joining two associations, and working two different MLS systems, which isn't the ideal solution.
What would I do if I were the judge?
I'd dissolve Sandicor, make SDAR join CRMLS, and then give them the data feed to create their own consumer-facing portal.
It might sound too simple, but in the long run, it is what's needed.
One fear is that the access to the database of sold properties gets interrupted. If that happened, agents would be forced to find their comps at Zillow – wouldn't that be a fine kettle of fish!
But we would survive.  Agents would migrate to the CRMLS – the only alternative solution – and within six months we would have a new database of sold comps.  Today there are over 300 active San Diego listings in CRMLS, so it is already happening.
I commend Raylene Brundage and other leaders for taking this dramatic step. It will probably get messier over the next few months, but in the long-term, agents want and need one solid, reliable MLS with a collective voice that is powerful enough to take on the outside disrupters.
Buying and selling homes is a big deal for the consumers.  They deserve to have the option of hiring agents who can guide them through the process in the most efficient and cost-effective way possible.
Having a robust statewide MLS with a voice will help agents do just that.