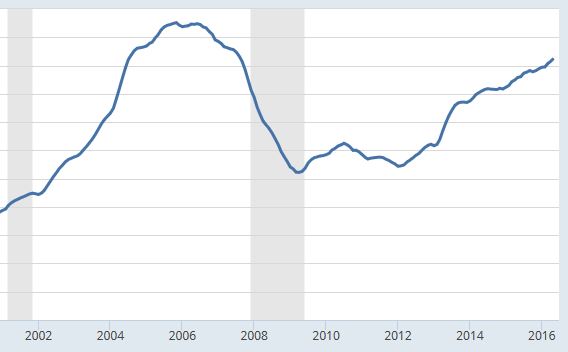 Sellers keep asking for more, and the trend is in their favor!  The Case-Shiller Index is a lagging indicator – today's reading is measuring the spring kick, a blended number from March, April and May sales.
The good news should continue though. Look back at last year's July – the month-over-month gain was a whopping +1.1%! With the low rates, we might hit that again this year.
Home-price appreciation continues throughout much of the United States, David M. Blitzer, managing director and chairman of the Index Committee at S&P Dow Jones Indices, said in a statement.
"Overall, housing is doing quite well. In addition to strong prices, sales of existing homes reached the highest monthly level since 2007 as construction of new homes showed continuing gains," he said.
Here are the recent San Diego NSA changes:
| | | | |
| --- | --- | --- | --- |
| Month | CSI-SD | M-o-M chg | Y-o-Y chg |
| December | 203.45 | -0.3% | +5.0% |
| January '15 | 204.67 | +0.6% | +5.0% |
| February | 205.94 | +0.6% | +4.6% |
| March | 208.52 | +1.2% | +4.6% |
| April | 209.78 | +0.6% | +4.5% |
| May | 211.57 | +0.9% | +4.8% |
| June | 212.09 | +0.3% | +4.6% |
| July | 214.53 | +1.1% | +5.4% |
| August | 215.22 | +0.3% | +5.9% |
| September | 216.45 | +0.6% | +6.6% |
| October | 215.64 | -0.3% | +6.2% |
| November | 216.47 | +0.3% | +6.0% |
| December | 217.86 | +0.7% | +7.2% |
| January '16 | 218.77 | +0.4% | +6.9% |
| February | 219.06 | +0.1% | +6.4% |
| March | 221.35 | +1.0% | +6.2% |
| April | 223.05 | +0.8% | +6.3% |
| May | 225.06 | +0.9% | +6.4% |