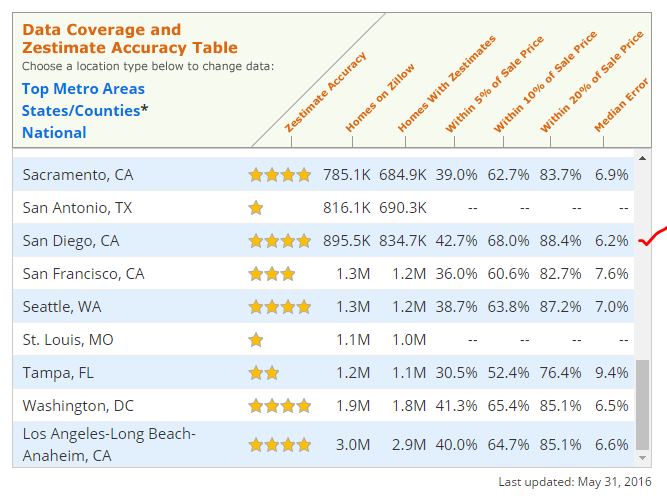 They don't have a direct feed from our MLS, but they give themselves the highest 4-star rating for San Diego?
Median error = half the San Diego zestimates are wrong by more than 6.2%
Zillow, the leading real estate information and home-related marketplace, today launches an update to the Zestimate® algorithm, improving accuracy across the country. Today's update will improve the national median error rate from 8 percent to 6 percenti.
Additionally, the update, which rolls out over the next 24 hours, improves accuracy in 96 of the 100 largest counties in the U.S.
Zillow publishes Zestimates on more than 100 million homes across the country based on 7.5 million statistical and machine learning models that examine hundreds of data points on each individual home.
In particular, the change includes a model specifically built to value new construction. It will also allow Zillow to process more home value data faster.
"Homes are a big investment, so if you own one, you're probably wondering what it's worth. That's why we created the Zestimate – to freely give consumers as much information as possible about the housing market and homes, so that they can make smart decisions when buying or selling," said Stan Humphries, Zillow Group chief analytics officer and creator of the Zestimate. "Since we launched the Zestimate 10 years ago, we have been continually working on making it even better. With the additional statistical models and computing power behind today's update, we are able to provide consumers even better information about millions of homes, equipping them to make informed decisions when talking with a real estate profession about buying or selling."
To calculate the Zestimate, Zillow uses data from county and tax assessor records, and direct feeds from hundreds of multiple listing services and brokerages. Additionally, Zillow users have updated home facts on more than 50 million homes, enhancing Zillow's living database of U.S. homes and adding data unavailable anywhere else.
While Zestimates are a great starting point for determining the value of a home, ultimately a home is worth what someone will pay for it. Zillow encourages home buyers and sellers to work with an experienced local real estate professional to determine and fine tune a home's best price.
i Half of all Zestimates are within 6 percent of the selling price, and half are off by more than 6 percent.
http://www.prnewswire.com/news-releases/zillow-boosts-accuracy-with-update-to-zestimate-algorithm-300281442.html