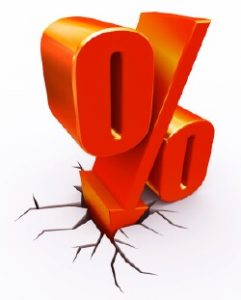 Anyone who thought that the threat of higher mortgage rates would cause buyers to rush their home-buying decision can chillax, as Kayla would say.  The threat has subsided, making buyers even more comfortable and deliberate in their search for the perfect match. These guys quote rates with no points:
http://www.mortgagenewsdaily.com/consumer_rates/621613.aspx
Mortgage rates were sideways to slightly lower today, keeping them in line with the lowest levels in more than three years.
While there are a few aggressive lenders quoting 3.5% on conventional 30yr fixed loans, 3.625% is the most prevalent quote on top tier scenarios.  3.75% had been more common until last week's jobs report sent rates quickly lower, and all but eliminated the possibility of a Fed rate hike in June.  The Fed Funds Rate does not directly dictate mortgage rates, but increasing expectations for Fed rate hikes tend to coincide with increasing mortgage rates.
When rates have been near these 3-year lows, we've only seen them dip lower briefly–and usually not by that much.   That means locking is never a bad idea at current levels.  Even so, risk-takers could also find justification to float based on the hope that European markets continue to pull US interest rates lower as the European Central Bank (ECB) begins a new bond-buying program tomorrow.  As always, if you choose to float, set a limit as to how much rates would have to rise before you'd lock to avoid further losses.
"I continue to favor floating all loans right now.   The benchmark European bond, the 10yr Bund, set new record lows today ahead of the ECB corporate bond buying which is set to begin tomorrow.  I think it is worth the risk to float overnight to see how that impacts the Bund which will have an impact on US Treasuries.  Today, the Bund helped push the 10 year to about a 1month low."  – Victor Burek, Churchill Mortgage