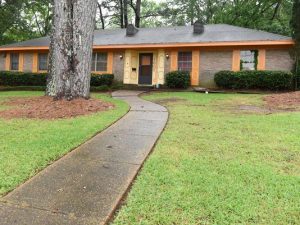 Hat tip to daytrip for sending in this article on mortgage forgiveness:
http://www.clarionledger.com/story/news/local/2016/05/21/jackson-mayors-mortgage-vanishes-after-election/83615172/
A few weeks after being elected Jackson mayor in 2014, Tony Yarber stood in his pulpit at Relevant Empowerment Church and spoke of his blessings — the bank "washing away" his nearly $100,000 mortgage.
"Election is over. We trusted God. Y'all talked all that noise," Yarber said in his sermon. "And while they was running their mouth, a letter came in the mail from Wells Fargo. The letter said, 'Dear Mr. Yarber, concerning loan number whatever it was, at 1605 whatever street you stay on, we have no more interest in that property. Consider the $92,000 that you owe us washed away.'"
The audience cheered.
Two years later, and about a year out from the next mayoral election, that revelation is fodder for Yarber detractors, who believe his house was paid off.
Yet evidence suggests Wells Fargo forgave his mortgage.
Sure enough, records in Hinds Chancery Court show the release of his mortgage, which typically indicates the remaining lien has been satisfied. But at the time Yarber was in financial straits, having not paid his house note in several months.
Bank records show that Wells Fargo authorized the release of the remaining lien, $91,621.94, on April 22, 2014, the day of his election. Essentially, they wrote it off, Yarber said.
"Wells Fargo said don't worry about sending no more money," he told The Clarion-Ledger.
In his sermon, Yarber said he had been broke. He explained his fears that his daughter's truck could get repossessed. He expressed sadness over looking into the faces of his children, knowing he couldn't provide them a "real Christmas."
But a week after taking office, Yarber received the letter in the mail from Wells Fargo. "I think it was God's favor," he said.
"It was what we were praying for before any of that."
Yarber used to ride around with the letter in his car, which said that "due to inactivity of the above mortgage account, we are releasing the lien on your first mortgage with us."
"This means we will forgive the unpaid principal balance on your first mortgage loan and release you from any obligation to make payments on the loan now or in the future," the letter states.
In 2007, Yarber took out a 40-year, $92,872.48 mortgage on his south Jackson home. On May 16, 2014, 22 days after taking office, the lien release was recorded in Chancery Court.
Still, the loan forgiveness reflects negatively on the mayor's credit; he was even turned down for a loan to buy a "fixer upper" home in Jackson recently.
"In this form of government, the mayor does not vote for a budget, nor does the mayor approve expenditures. So, there is no correlation," Yarber said.
Yarber originally purchased his home on Dorgan Street in 2002 with a $63,011, 30-year loan before refinancing in 2007. Yarber indicated that he refinanced the home to acquire some extra money to pay off other debts.
By the time his mortgage "washed away," he hadn't paid his house note in five months, since November the previous year, he told his church congregation.
Bank records show a pattern of late or non-payment on Yarber's mortgage. He hadn't paid against the principal of the loan since 2012.
"That was our Wells Fargo protest," Yarber said.
"My family and I was part of the very unfortunate real estate swindle of the early 2000's that millions of Americans fell to prey to," Yarber said to explain the genesis of his financial problems.