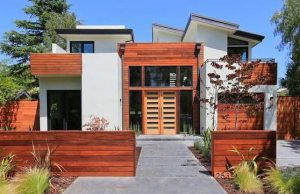 The Bloomberg story already got picked up by Vanity Fair and realtor.com.  Is this new news, or just what we've been seeing around NSDCC for months?  All that matters is what buyers' perception will be.

http://www.vanityfair.com/news/2016/05/is-the-silicon-valley-real-estate-bubble-about-to-explode
http://www.realtor.com/news/trends/silicon-valley-slowdown/
The realtor.com version:
Silicon Valley is known as one of the world's most expensive markets. But these days, those shopping for a luxury home in the techie paradise may be able to score a (relative) deal.
Wealthy homeowners are starting to slash prices on the most expensive mansions, which have been sitting on the market a little longer, according to Bloomberg.com. The reductions aren't quite an everything-must-go fire sale, but they hint that the days of skyrocketing prices may be coming to an end.
That's due to a topsy-turvy stock market, fewer foreign buyers, and worries that the tech industry could be headed for a slowdown, Bloomberg reports.
For example, the average price of Silicon Valley properties costing more than $3 million was $3.76 million in April—down from $4.12 million a year earlier, according to data provided by the Silicon Valley Association of Realtors®. It rebounded a bit to $3.94 million in the first half of May—but that's still quite a chunk of change.
Meanwhile, Silicon Valley homes costing more than $3 million stayed on the market a bit longer as well. They were at 30 days in April, a small rise from 26 days a year earlier, according to the association's data.
"The market is cooling down," says Realtor® Avi Urban of Keller Williams Palo Alto. He's seeing interest wane for properties costing more than $4 million.
"It doesn't mean the market is going to crash tomorrow," he says. "This is a time where basically we have reached a point where it's too expensive" for many would-be buyers, and it's starting to pull down prices.
The median price for all housing types in Silicon Valley's ritzy Palo Alto is a staggering $2.2 million, according to realtor.com®.
For example, Urban had a two-unit condo property in a prime Palo Alto location in the $2 million range that received only one offer in the first two weeks it was listed. A year ago, he would have expected it to receive more than a dozen bids for 10% to 15% over the asking price.
To compensate, homeowners are lowering the prices of the highest-end residences that aren't attracting enough potential buyers, says Karen Trolan, president of the Silicon Valley Association of Realtors.
"Everybody gets so excited when the market's crazy that they push the prices up. They're testing the market," Trolan says. And when the homes don't move, "what they usually do is bring [the costs] down."
Prices are not dropping much yet, though, on the midddle to low end of the market, say local real estate agents. Stories still abound of a Google employee living in his truck and a San Francisco man residing in a plywood box for $400 a month because they can't afford the astronomical housing prices. And bidding wars continue to drive up sale prices even higher.
But demand remains high for turnkey, single-family homes and condos at (relatively) affordable price points in good school districts, Trolan says.
"We have a housing shortage here," Trolan says. "Our homes are still [selling] really well."