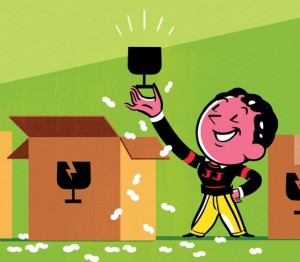 Buying a luxury home is expensive enough. Moving into it can be costly, too.
Many wealthy homeowners hire traditional moving companies for household goods and retain specialty movers to handle things like rare paintings, antique furniture and other high-value items.
These "white glove" services cost more because the items may need delicate wrapping, climate control and custom crates, for example. Some companies, such as New York-based Roadway Moving, offer concierge services to help plan and supervise the move, says Roadway CEO Ross Sapir.
For a move from Austin, Texas, to Manhattan, one recent Roadway client requested special vaults constructed to transport his rare paintings, sculptures and musical instruments. The company complied with an additional request that the vaults be sealed so that only the client could open them, Mr. Sapir says.
After five vaults were loaded onto two trucks, the client insisted on following them in his car. "At some point, however, he gave up following and switched to his private jet," Mr. Sapir says.
Forklifts were needed to unload larger items and the vaults out of the truck to the door of the client's Fifth Avenue condo building. In the end, this move cost the client about $35,000.
Using photographs from the homeowners' previous property, Roadway's concierge can also walk through the new home to mark where the audio system needs to be installed and ensure that closet layouts are reproduced exactly, Mr. Sapir says.
"On the high end, planning is everything," says Nir Shuminer, owner of New York-based Scanio Movers, which specializes in luxury moves. Wealthy clients value careful packing over speed. While a traditional mover might provide six to eight people to pack up a home in a day or less, Scanio typically sends no more than two or three skilled packers who may take up to three days to ensure that fragile items, such as chandeliers, artwork and crystal, are packed so they won't get lost or damaged. Scanio recently completed a move that cost the client about $27,000 and included chandeliers, expensive artwork and some historical artifacts.
In addition to the moving company, the homeowner may retain a personal assistant or personal organizer to work on the move. This person may inventory and photograph every item that is packed and oversee the finer details of unpacking so that everything ends up in the right place in the new home, Mr. Shuminer says.
Project managers, such as New York-based NouvelleView, may also perform such tasks as calling utilities, arranging a cleaning crew, and hiring a contractor to wire a home-theater system, says Pamela Muller, the company's owner.
Helping clients sort through 35 years' worth of possessions can be emotional, Ms. Muller says. She compares her role to that of a "move therapist," as clients decide what items to take and how they should be organized, she adds.
Management fees vary based on the scope of the move and services performed, Ms. Muller says. Last year, her smallest project cost the client $7,000, and four other moves cost more than $25,000, she says. These prices are on top of what the movers charge. In one case, the client paid NouvelleView $15,000, a traditional mover $30,000, and a fine-arts specialty mover an additional $25,000.
Read full article here:
http://www.wsj.com/articles/when-home-buyers-make-their-move-1461769297