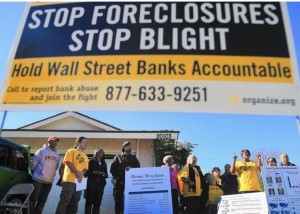 Those who were wrongly foreclosed won't get their house back, but the courts might make the banks throw around some more free money.
http://www.latimes.com/business/la-fi-foreclosure-ruling-20160302-story.html
Excerpts:
During the bust that followed last decade's housing boom, hundreds of thousands of Californians lost their homes to foreclosure. It was a process later found to be rife with problems, such as overwhelmed bank employees who sometimes didn't even read the foreclosure documents in front of them.
But challenging foreclosures on the basis of paperwork problems proved to be mostly futile, given California courts had ruled that borrowers who weren't paying their mortgages didn't suffer financial harm.
Now, a recent decision by the California Supreme Court will allow some of those former homeowners to pursue lawsuits and possibly win damages for wrongful foreclosure even if they were in default.
"They opened the courthouse doors," said Katherine Porter, a law professor at UC Irvine and a former monitor for a national settlement over foreclosure abuses.
A statute of limitations of four years might mean that the decision won't help most of the nearly 1 million California homeowners who were foreclosed upon from 2007 to 2012, according to real estate data provider CoreLogic.
Still, Porter estimated there may be tens of thousands of Californians who could conceivably argue for damages given inconsistencies in documents that transferred their loans.
Others are more skeptical.
George Lefcoe, a professor at the USC Gould School of Law, said it will be very difficult for borrowers to prove that the ownership of their loans was so muddled that the foreclosure process was fatally flawed.
And even if borrowers do win the argument, it's unclear what damages they may receive, if any.
Read the full article here:
http://www.latimes.com/business/la-fi-foreclosure-ruling-20160302-story.html