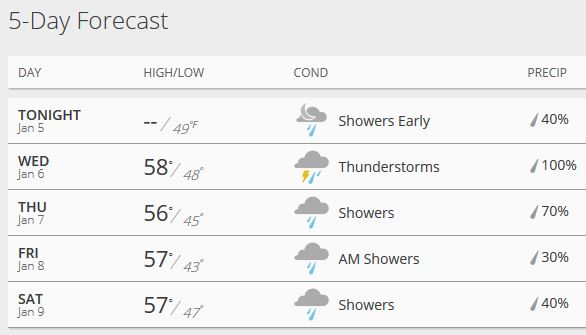 Will the drought talk will die down for a few days?  Maybe not….
http://www.sandiegouniontribune.com/news/2016/jan/05/el-nino-storms-slam-drought-parched-california/
As much as 15 inches of rain could fall in the next 16 days in Northern California, with about 2 feet of snow expected in the highest points of the Sierra Nevada, said Johnny Powell, a forecaster with the National Weather Service.
In Southern California, between 2 and 3.5 inches of rain is predicted to fall across the coastal and valley areas, and up to 5 inches falling in the mountains.
How does a week of rain impact real estate sales?
It depends – but if you have to waste a week, do it early in the year!
DO's:
 Keep sprucing up the house to sell.
 Check for leaks at windows, doors, and roof.
 Make offers (less competition).
 If in escrow, go ahead with inspection – find leaks!
 Interview contractors.
 Protect your landscape.
DON'TS
 Don't put a new listing on MLS – the first few days on the market are the most urgent, and you don't want miss any buyers.
 Don't do open house – it will make a mess of the house….if anyone comes.
 Don't stop showings by appt – must be a motivated buyer.
 Don't lower your price…..until everyone is looking again.
 Don't take listing photos, they always look gray and dreary.
 Don't forget to turn off sprinklers.
It might be a good week for buyers and sellers to leave town for a few days!