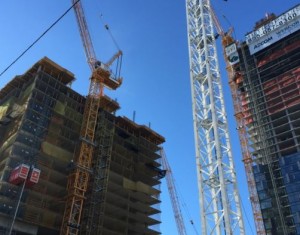 Hat tip to Eddie89 for sending in this article from scpr.com:
http://www.scpr.org/news/2015/12/15/56174/who-will-be-living-in-downtown-la-s-new-mega-condo
An excerpt:
Construction workers in downtown Los Angeles are racing to finish Metropolis, the biggest mixed-use development on the West Coast.
When its three towers are completed sometime in 2018 – if all goes according to schedule – more than 1,500 condos will be added to Los Angeles' scarce housing market, but some of the buyers probably won't be spending much time living there.
Other developers have tried for decades to raise enough financing to turn the six-acre Metropolis site into something other than parking lots. The only one to pull it off has been Greenland Holding Group, a Chinese state-owned real estate behemoth. Bankers and real estate lawyers say a big reason why it has succeeded where so many others have failed is because Greenland has a big advantage: a direct line to millions of potential buyers in mainland China.
"It's relatively easy for them to bring to their Chinese customers' attention that they have this exciting project in Los Angeles," said Mike Margolis, a partner at the Century City-based law firm, Blank Rome, who frequently advises Chinese companies doing business in the U.S. "That's a ready made market for them."
"They have been very successful at selling to Chinese buyers," said Pin Tai, President of Cathay Bank.
Chinese buyers are attractive because about 70 percent of them pay all-cash, according to a 2015 National Association of Realtors survey.
Tai says it's especially important to lock in those buyers first, because after the financial crisis, most banks require up to half a building to be under contract before they'll approve a mortgage.
"It's like building the foundation first," said Tai. "It's low hanging fruit."
Read full article here:
http://www.scpr.org/news/2015/12/15/56174/who-will-be-living-in-downtown-la-s-new-mega-condo