This looks like a fairly safe forecast – I'll take the under. From HW:
Goldman Sachs sent an email to clients advising that growth in residential investments through 2016 will be solid, though not as strong as they originally hoped.  Plus, this growth will likely curtail in the years immediately following as the chart below notes.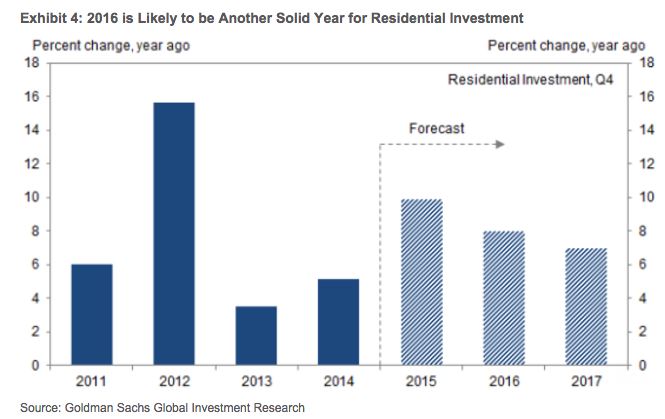 The residential investment definition includes all new construction, about half the total of all construction, plus home improvement spending and commissions for real estate brokers.
"We are trimming our expectations for 2016 slightly — lowering our forecast for residential investment to 8% from 11% previously — but we still expect housing to be the top performer among the major components of GDP," writes economist Daan Struyven, in a note to clients. "Although housing starts are likely to increase at a somewhat slower pace than in 2015, a shift in composition to more single-family building should add to residential investment next year."
The Goldman note states that residential investment growth is hampered by housing starts, which remain below pace to match demand.
Additionally, the rising interest rate environment expected next year, something the Fed is now openly referring to as "normalization," will impact mortgage applications, but the Goldman note is unclear to what extent.
"We continue to expect housing to be the fastest growing component of GDP next year," Struyven adds. "Taking all the components together, we forecast a gain of 8% Q4/Q4 for 2016 residential investment, which would add about 0.3 percentage points to overall GDP growth."
"Our outlook for new construction in 2016 is mixed. On the one hand, we expect positive but lower growth in housing starts, with 100,000 more starts in 2016 than in 2015 (1.3 million in 2016 vs 1.2 million in 2015), compared to a gain of 150,000 in 2015.

This relative slowing reflects three factors. First, the level of housing starts, while still depressed, is getting closer to its equilibrium level, implied by demographics and demolition rates. Second, unemployment should continue to decline, which should foster household formation, but at a slower pace. Third, Fed hikes, and associated higher mortgage rates, may also reduce the pace at which builders increase starts."