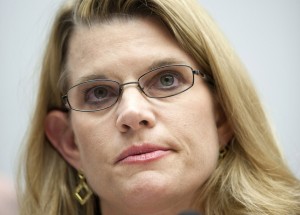 Hat tip to daytrip for sending in this story:
http://www.bloomberg.com/news/articles/2015-10-02/mortgage-executive-who-took-rap-for-crisis-prepares-her-appeal
Rebecca Mairone scarcely deserves a mention in the annals of finance, except for this: She's the only executive of a major U.S. mortgage lender found liable for her part in the 2008 financial crisis.
Mairone was chief operating officer for a division of Countrywide Financial Corp., the California giant that came to symbolize the excesses of the subprime era. While top executives there and elsewhere walked away, Mairone, now 48, was targeted in a civil case by federal prosecutors. In October 2013, a Manhattan jury found her liable for misrepresenting the quality of mortgages her company sold to Fannie Mae and Freddie Mac. U.S. District Judge Jed Rakoff called her testimony "implausible" and slapped her with a $1 million fine. Bloggers said she helped destroy the U.S. economy and should be jailed or worse.
Two years later, Mairone is heading back to court in an attempt to overturn that ruling and restore her reputation. As she has all along, she maintains she did nothing wrong. Years after the housing bust, her case reminds Americans yet again that not a single senior executive has been held accountable for a mortgage meltdown that cost millions of people their homes, livelihoods and savings.
"She's not uniquely responsible," said Brad Miller, a Democratic congressman from North Carolina from 2003 to 2013 who served on the House Financial Services Committee. "But the question isn't whether there should've been a claim brought against Rebecca Mairone. It's why weren't a lot more brought?"
Read the full article here:
http://www.bloomberg.com/news/articles/2015-10-02/mortgage-executive-who-took-rap-for-crisis-prepares-her-appeal