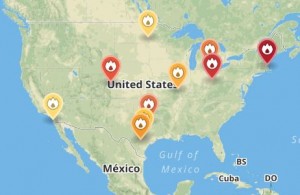 From realtor.com:
http://www.realtor.com/news/trends/top-10-hottest-zip-codes-in-america
Forget Beverly Hills' 90210. You want hot? Scalding hot? Housing market hot? The ZIP codes 02176 (Melrose, MA), 43085 (Worthington, OH), and 58103 (Fargo, ND) are where it's at today, according to an exclusive analysis by our economic data team that resulted in a list of the top 10 hottest ZIPs in the United States.
Homes in these top 10 communities sell four to nine times faster than the national average, and spend 20 fewer days on the market than their respective metropolitan statistical areas. Their listings on our site are viewed three to eight times more often than overall U.S. listings—an average of 2.3 times more often than their respective metros.
"Each locale on this list is emblematic of the key trends driving housing this year—healthy local economics, job opportunities, and affordability," said Jonathan Smoke, chief economist of realtor.com®. "For first-time home buyers, these communities provide great opportunities to enter the housing market, build a career, and raise a family; older generations are able to build wealth and enjoy a variety of lifestyles."
#10
92010 – Carlsbad, Calif., nicknamed the "Village by the Sea," is a tourist destination known for its Legoland theme park. It has four ZIP codes, two of which are right on the coast and extremely pricey. Prices in this region have been steadily increasing over the last 18 months. Located farther from the beach than the others, 92010 offers buyers a big selection of multi-family units, which is a way to get into the real estate market for under $600,000.