The first few house lotteries were shut down due to their gambling nature, but now there are new twists.  First it was the flipper who is unloading a 1906 Craftsman-style home to the person who submits $100 and the best dessert-recipe HERE
Now these folks in Phoenix who paid $350,000 for their house want you to submit an essay and $150 to have a chance to win their flip: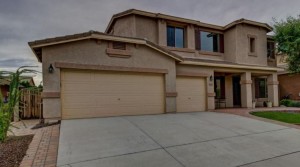 From KTAR – click HERE for link:
PHOENIX — Valley residents with an extra $150 lying around might want to think about investing that in real estate.
That money could actually go a long way as a Phoenix real estate investor says that's all it takes to have a shot at purchasing one of his properties.
"We purchased the house with the sole intention of making it beautiful and selling it for profit," said Erin O'Connor.
O'Connor intends to make a profit by selling the nearly 4,000-square-foot, five bedroom home at 6517 W Lucia Dr. through an essay contest that costs $150 to enter.
Any adult can submit an essay up to 250 words, O'Connor will then narrow the essays down to the best 300 and an attorney will pick the final winner.
"If you win the essay contest, then you're given the exclusive right to purchase the home for $10 and your normal closing fees," he said.
Those title and escrow fees are estimated to be roughly $3,000, according to O'Connor's website.
O'Connor said there needs to be a minimum of 4,500 essays submitted for the contest to be valid and only the first 5,500 will be accepted. That ensures at least $675,000 in revenue for the home and at the most, $825,000.
Michael Weinstein of the YourRealEstateWorld.com team at West USA Realty wrote in an email the property has an estimated value of $418,210, so 2,788 entries would be needed to simply break even on the property.
Weinstein called it a fun idea for those that have the resources but was skeptical about the business model for sellers. O'Connor however, said he hopes it is a business model that not only works, but also will catch on.
"I do believe that it could catch on (and) we could make a business out of it," he said.
A portion of the revenue from the essay entries will go to benefit St. Jude Children's Hospital, O'Connor said.