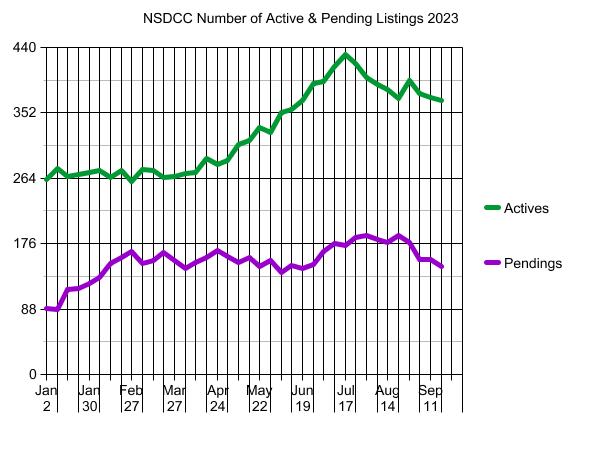 Last year the inventory stayed elevated through October as everyone was distracted by the Padres' playoff run. Yesterday's win was the fourth Padres victory in a row and keeps their playoff hopes alive with 12 games to go.
Can they pull it off?
If they do, it will mean the next few weeks of real estate should be fairly quiet!
The $0 – $1,500,000 Market:
| | | | | |
| --- | --- | --- | --- | --- |
| Date | NSDCC Active Listings | Avg. LP/sf | Avg. DOM | # of Pendings |
| Jan 2, 2023 | 22 | $719/sf | 75 | 15 |
| Jan 9 | 26 | $687/sf | 50 | 14 |
| Jan 16 | 23 | $701/sf | 52 | 20 |
| Jan 23 | 25 | $751/sf | 60 | 21 |
| Jan 30 | 23 | $788/sf | 45 | 25 |
| Feb 6 | 18 | $750/sf | 59 | 24 |
| Feb 13 | 18 | $770/sf | 48 | 26 |
| Feb 20 | 17 | $778/sf | 49 | 26 |
| Feb 27 | 18 | $802/sf | 48 | 23 |
| Mar 6 | 22 | $802/sf | 44 | 14 |
| Mar 13 | 22 | $747/sf | 45 | 16 |
| Mar 20 | 16 | $826/sf | 49 | 21 |
| Mar 27 | 17 | $853/sf | 47 | 20 |
| Apr 3 | 19 | $803/sf | 37 | 20 |
| Apr 10 | 11 | $778/sf | 53 | 30 |
| Apr 17 | 15 | $690/sf | 44 | 27 |
| Apr 24 | 12 | $682/sf | 33 | 25 |
| May 1 | 11 | $795/sf | 35 | 27 |
| May 8 | 14 | $780/sf | 33 | 24 |
| May 15 | 16 | $770/sf | 37 | 22 |
| May 22 | 21 | $747/sf | 45 | 18 |
| May 29 | 20 | $757/sf | 52 | 21 |
| Jun 5 | 23 | $755/sf | 49 | 20 |
| Jun 12 | 17 | $711/sf | 31 | 32 |
| Jun 19 | 16 | $674/sf | 34 | 33 |
| Jun 26 | 20 | $677/sf | 32 | 29 |
| Jul 3 | 21 | $645/sf | 28 | 33 |
| Jul 10 | 23 | $692/sf | 30 | 32 |
| Jul 17 | 21 | $730/sf | 37 | 30 |
| Jul 24 | 21 | $704/sf | 37 | 32 |
| Jul 31 | 21 | $713/sf | 44 | 27 |
| Aug 7 | 22 | $692/sf | 50 | 25 |
| Aug 14 | 24 | $693/sf | 48 | 24 |
| Aug 21 | 22 | $688/sf | 25 | 29 |
| Aug 28 | 25 | $679/sf | 47 | 38 |
| Sep 4 | 23 | $718/sf | 50 | 36 |
| Sep 11 | 29 | $685/sf | 44 | 33 |
| Sep 18 | 28 | $696/sf | 35 | 28 |
The $1,500,000 – $2,000,000 Market:
| | | | | |
| --- | --- | --- | --- | --- |
| Date | NSDCC Active Listings | Avg. LP/sf | Avg. DOM | # of Pendings |
| Jan 2, 2023 | 45 | $809/sf | 60 | 18 |
| Jan 9 | 55 | $828/sf | 53 | 19 |
| Jan 16 | 46 | $838/sf | 53 | 30 |
| Jan 23 | 43 | $793/sf | 52 | 31 |
| Jan 30 | 40 | $778/sf | 54 | 34 |
| Feb 6 | 42 | $814/sf | 46 | 30 |
| Feb 13 | 35 | $823/sf | 51 | 39 |
| Feb 20 | 34 | $801/sf | 47 | 40 |
| Feb 27 | 27 | $846/sf | 33 | 45 |
| Mar 6 | 29 | $893/sf | 33 | 41 |
| Mar 13 | 32 | $850/sf | 33 | 39 |
| Mar 20 | 27 | $872/sf | 36 | 41 |
| Mar 27 | 22 | $832/sf | 39 | 36 |
| Apr 3 | 21 | $779/sf | 27 | 36 |
| Apr 10 | 22 | $816/sf | 26 | 33 |
| Apr 17 | 27 | $797/sf | 21 | 33 |
| Apr 24 | 28 | $856/sf | 31 | 34 |
| Apr 24 | 28 | $856/sf | 31 | 34 |
| May 1 | 30 | $789/sf | 28 | 36 |
| May 8 | 36 | $808/sf | 25 | 37 |
| May 15 | 33 | $776/sf | 33 | 44 |
| May 22 | 35 | $818/sf | 36 | 44 |
| May 29 | 38 | $786/sf | 33 | 40 |
| Jun 5 | 39 | $791/sf | 34 | 30 |
| Jun 12 | 37 | $754/sf | 37 | 32 |
| Jun 19 | 36 | $779/sf | 35 | 35 |
| Jun 26 | 39 | $766/sf | 34 | 36 |
| Jul 3 | 39 | $776/sf | 41 | 40 |
| Jul 10 | 45 | $780/sf | 37 | 39 |
| Jul 17 | 53 | $807/sf | 29 | 36 |
| Jul 24 | 51 | $787/sf | 32 | 38 |
| Jul 31 | 51 | $763/sf | 30 | 39 |
| Aug 7 | 45 | $750/sf | 36 | 39 |
| Aug 14 | 42 | $739/sf | 38 | 39 |
| Aug 21 | 39 | $707/sf | 29 | 46 |
| Aug 28 | 51 | $723/sf | 30 | 39 |
| Sep 4 | 46 | $739/sf | 31 | 30 |
| Sep 11 | 42 | $771/sf | 27 | 30 |
| Sep 18 | 40 | $805/sf | 27 | 31 |
The $2,000,000 – $3,000,000 Market:
| | | | | |
| --- | --- | --- | --- | --- |
| Date | NSDCC Active Listings | Avg. LP/sf | Avg. DOM | # of Pendings |
| Jan 2, 2023 | 52 | $869/sf | 69 | 30 |
| Jan 9 | 57 | $940/sf | 66 | 31 |
| Jan 16 | 50 | $948/sf | 61 | 36 |
| Jan 23 | 51 | $949/sf | 58 | 35 |
| Jan 30 | 54 | $964/sf | 55 | 34 |
| Feb 6 | 60 | $930/sf | 51 | 42 |
| Feb 13 | 51 | $1,038/sf | 52 | 47 |
| Feb 20 | 58 | $1,022/sf | 47 | 46 |
| Feb 27 | 56 | $1,064/sf | 52 | 49 |
| Mar 6 | 57 | $995/sf | 50 | 50 |
| Mar 13 | 55 | $1,015/sf | 53 | 47 |
| Mar 20 | 50 | $1,011/sf | 58 | 50 |
| Mar 27 | 54 | $1,039/sf | 49 | 47 |
| Apr 3 | 54 | $1,035/sf | 52 | 38 |
| Apr 10 | 55 | $1,004/sf | 48 | 42 |
| Apr 17 | 64 | $985/sf | 47 | 46 |
| Apr 24 | 57 | $1,001/sf | 43 | 50 |
| May 1 | 57 | $1,008/sf | 42 | 45 |
| May 8 | 68 | $1,031/sf | 36 | 41 |
| May 15 | 71 | $1,007/sf | 34 | 39 |
| May 22 | 77 | $1,003/sf | 34 | 38 |
| May 29 | 74 | $1,002/sf | 39 | 43 |
| Jun 5 | 77 | $991/sf | 42 | 44 |
| Jun 12 | 82 | $986/sf | 48 | 45 |
| Jun 19 | 90 | $978/sf | 48 | 33 |
| Jun 26 | 90 | $1,015/sf | 49 | 33 |
| Jul 3 | 92 | $1,019/sf | 49 | 36 |
| Jul 10 | 89 | $1,021/sf | 50 | 44 |
| Jul 17 | 97 | $1,013/sf | 48 | 42 |
| Jul 24 | 91 | $1,010/sf | 48 | 42 |
| Jul 31 | 81 | $999/sf | 56 | 52 |
| Aug 7 | 81 | $1,011/sf | 53 | 49 |
| Aug 14 | 76 | $996/sf | 58 | 48 |
| Aug 21 | 71 | $959/sf | 45 | 49 |
| Aug 28 | 82 | $990/sf | 46 | 43 |
| Sep 4 | 81 | $1,022/sf | 46 | 39 |
| Sep 11 | 84 | $1,017/sf | 44 | 39 |
| Sep 18 | 82 | $1,031/sf | 43 | 44 |
The $3,000,000 – $4,000,000 Market:
| | | | | |
| --- | --- | --- | --- | --- |
| Date | NSDCC Active Listings | Avg. LP/sf | Avg. DOM | # of Pendings |
| Jan 2, 2023 | 29 | $1,236/sf | 85 | 6 |
| Jan 9 | 29 | $1,180/sf | 80 | 5 |
| Jan 16 | 31 | $1,196/sf | 73 | 8 |
| Jan 23 | 33 | $1,201/sf | 71 | 7 |
| Jan 30 | 37 | $1,218/sf | 70 | 6 |
| Feb 6 | 34 | $1,236/sf | 75 | 12 |
| Feb 13 | 43 | $1,333/sf | 68 | 11 |
| Feb 20 | 39 | $1,392/sf | 71 | 18 |
| Feb 27 | 37 | $1,323/sf | 68 | 22 |
| Mar 6 | 49 | $1,222/sf | 56 | 20 |
| Mar 13 | 49 | $1,312/sf | 49 | 22 |
| Mar 20 | 46 | $1,321/sf | 52 | 25 |
| Mar 27 | 50 | $1,329/sf | 52 | 25 |
| Apr 3 | 49 | $1,342/sf | 51 | 23 |
| Apr 10 | 50 | $1,321/sf | 57 | 24 |
| Apr 17 | 47 | $1,342/sf | 59 | 26 |
| Apr 24 | 49 | $1,281/sf | 63 | 28 |
| May 1 | 53 | $1,227/sf | 62 | 23 |
| May 8 | 55 | $1,122/sf | 63 | 19 |
| May 15 | 57 | $1,211/sf | 59 | 19 |
| May 22 | 59 | $1,170/sf | 61 | 19 |
| May 29 | 60 | $1,171/sf | 60 | 17 |
| Jun 5 | 70 | $1,178/sf | 55 | 15 |
| Jun 12 | 64 | $1,198/sf | 53 | 18 |
| Jun 19 | 67 | $1,184/sf | 54 | 20 |
| Jun 26 | 66 | $1,204/sf | 58 | 25 |
| Jul 3 | 63 | $1,215/sf | 58 | 22 |
| Jul 10 | 72 | $1,204/sf | 59 | 23 |
| Jul 17 | 79 | $1,173/sf | 64 | 22 |
| Jul 24 | 78 | $1,182/sf | 63 | 23 |
| Jul 31 | 69 | $1,181/sf | 66 | 22 |
| Aug 7 | 72 | $1,214/sf | 65 | 19 |
| Aug 14 | 65 | $1,224/sf | 67 | 26 |
| Aug 21 | 66 | $1,236/sf | 57 | 24 |
| Aug 28 | 64 | $1,232/sf | 64 | 20 |
| Sep 4 | 59 | $1,215/sf | 70 | 21 |
| Sep 11 | 50 | $1,134/sf | 78 | 22 |
| Sep 18 | 46 | $1,150/sf | 80 | 20 |
The $4,000,000+ Market:
| | | | | |
| --- | --- | --- | --- | --- |
| Date | NSDCC Active Listings | Avg. LP/sf | Avg. DOM | # of Pendings |
| Jan 2, 2023 | 121 | $1,744/sf | 126 | 21 |
| Jan 9 | 119 | $1,716/sf | 123 | 20 |
| Jan 16 | 120 | $1,761/sf | 121 | 26 |
| Jan 23 | 122 | $1,707/sf | 119 | 27 |
| Jan 30 | 120 | $1,680/sf | 121 | 30 |
| Feb 6 | 125 | $1,714/sf | 118 | 28 |
| Feb 13 | 121 | $1,750/sf | 116 | 32 |
| Feb 20 | 129 | $1,725/sf | 112 | 33 |
| Feb 27 | 124 | $1,743/sf | 115 | 31 |
| Mar 6 | 122 | $1,753/sf | 109 | 28 |
| Mar 13 | 120 | $1,782/sf | 109 | 32 |
| Mar 20 | 129 | $1,783/sf | 106 | 28 |
| Mar 27 | 127 | $1,781/sf | 106 | 27 |
| Apr 3 | 131 | $1,774/sf | 105 | 27 |
| Apr 10 | 136 | $1,788/sf | 107 | 24 |
| Apr 17 | 140 | $1,776/sf | 108 | 27 |
| Apr 24 | 141 | $1,771/sf | 107 | 31 |
| May 1 | 142 | $1,760/sf | 105 | 30 |
| May 8 | 140 | $1,737/sf | 104 | 32 |
| May 15 | 141 | $1,812/sf | 107 | 37 |
| May 22 | 145 | $1,816/sf | 106 | 29 |
| May 29 | 142 | $1,846/sf | 110 | 36 |
| Jun 5 | 152 | $1,791/sf | 107 | 31 |
| Jun 12 | 163 | $1,777/sf | 106 | 24 |
| Jun 19 | 166 | $1,779/sf | 102 | 26 |
| Jun 26 | 179 | $1,758/sf | 98 | 29 |
| Jul 3 | 184 | $1,670/sf | 91 | 39 |
| Jul 10 | 192 | $1,653/sf | 92 | 42 |
| Jul 17 | 187 | $1,666/sf | 94 | 47 |
| Jul 24 | 185 | $1,668/sf | 98 | 49 |
| Jul 31 | 184 | $1,653/sf | 102 | 51 |
| Aug 7 | 178 | $1,639/sf | 101 | 51 |
| Aug 14 | 182 | $1,625/sf | 106 | 45 |
| Aug 21 | 177 | $1,612/sf | 100 | 43 |
| Aug 28 | 181 | $1,644/sf | 106 | 40 |
| Sep 4 | 179 | $1,646/sf | 109 | 32 |
| Sep 11 | 177 | $1,683/sf | 105 | 32 |
| Sep 18 | 169 | $1,660/sf | 106 | 29 |
NSDCC Weekly New Listings and New Pendings
| | | | | |
| --- | --- | --- | --- | --- |
| Week | New Listings | New Pendings | Total Actives | Total Pendings |
| Jan 2, 2023 | 11 | 6 | 263 | 89 |
| Jan 9 | 36 | 15 | 277 | 88 |
| Jan 16 | 36 | 34 | 266 | 114 |
| Jan 23 | 36 | 22 | 269 | 116 |
| Jan 30 | 32 | 25 | 272 | 123 |
| Feb 6 | 46 | 33 | 275 | 131 |
| Feb 13 | 30 | 35 | 265 | 150 |
| Feb 20 | 43 | 34 | 274 | 158 |
| Feb 27 | 27 | 30 | 260 | 165 |
| Mar 6 | 45 | 28 | 276 | 150 |
| Mar 13 | 38 | 38 | 274 | 154 |
| Mar 20 | 39 | 37 | 265 | 164 |
| Mar 27 | 36 | 25 | 267 | 153 |
| Apr 3 | 37 | 28 | 271 | 143 |
| Apr 10 | 36 | 39 | 272 | 151 |
| Apr 17 | 47 | 27 | 291 | 157 |
| Apr 24 | 46 | 41 | 282 | 167 |
| May 1 | 59 | 31 | 288 | 159 |
| May 8 | 53 | 26 | 310 | 151 |
| May 15 | 48 | 31 | 315 | 157 |
| May 22 | 50 | 24 | 332 | 145 |
| May 29 | 43 | 37 | 325 | 154 |
| Jun 5 | 43 | 17 | 352 | 137 |
| Jun 12 | 52 | 36 | 357 | 146 |
| Jun 19 | 48 | 30 | 369 | 143 |
| Jun 26 | 65 | 26 | 391 | 148 |
| Jul 3 | 60 | 48 | 394 | 166 |
| Jul 10 | 51 | 34 | 415 | 176 |
| Jul 17 | 55 | 28 | 430 | 173 |
| Jul 24 | 37 | 43 | 419 | 184 |
| Jul 31 | 48 | 44 | 399 | 187 |
| Aug 7 | 43 | 32 | 390 | 181 |
| Aug 14 | 36 | 24 | 384 | 178 |
| Aug 21 | 41 | 45 | 371 | 187 |
| Aug 28 | 37 | 27 | 395 | 177 |
| Sep 4 | 35 | 29 | 378 | 155 |
| Sep 11 | 40 | 30 | 373 | 155 |
| Sep 18 | 37 | 29 | 369 | 145 |
NSDCC Weekly LP Quartiles
| | | | |
| --- | --- | --- | --- |
| Week | 1st Quartile | 2nd Quartile (Median LP) | 3rd Quartile |
| Jan 2, 2023 | $2,095,000 | $3,695,000 | $5,995,000 |
| Jan 9 | $1,990,000 | $3,495,000 | $5,775,000 |
| Jan 16 | $2,000,000 | $3,574,000 | $5,995,000 |
| Jan 23 | $2,099,000 | $3,595,000 | $5,999,000 |
| Jan 30 | $2,195,000 | $3,525,000 | $5,942,000 |
| Feb 6 | $2,195,000 | $3,598,000 | $6,845,000 |
| Feb 13 | $2,300,000 | $3,795,000 | $6,495,000 |
| Feb 20 | $2,397,500 | $3,950,000 | $6,197,500 |
| Feb 27 | $2,480,800 | $3,970,000 | $6,845,000 |
| Mar 6 | $2,395,000 | $3,749,500 | $5,995,000 |
| Mar 13 | $2,397,000 | $3,772,500 | $5,997,000 |
| Mar 20 | $2,580,000 | $3,995,000 | $6,800,000 |
| Mar 27 | $2,595,000 | $3,995,000 | $6,845,000 |
| Apr 3 | $2,699,000 | $3,995,000 | $6,750,000 |
| Apr 10 | $2,799,500 | $4,074,997 | $6,895,000 |
| Apr 17 | $2,600,000 | $3,995,000 | $6,597,000 |
| Apr 24 | $2,685,000 | $4,074,997 | $6,895,000 |
| May 1 | $2,695,000 | $3,999,000 | $6,495,000 |
| May 8 | $2,525,000 | $3,849,949 | $5,946,000 |
| May 15 | $2,495,000 | $3,749,400 | $5,950,000 |
| May 22 | $2,444,000 | $3,695,400 | $6,000,000 |
| May 29 | $2,495,000 | $3,699,000 | $6,395,000 |
| Jun 5 | $2,450,000 | $3,641,500 | $6,000,000 |
| Jun 12 | $2,499,900 | $3,799,999 | $6,496,000 |
| Jun 19 | $2,495,000 | $3,750,000 | $6,497,000 |
| Jun 26 | $2,450,000 | $3,799,000 | $6,495,000 |
| Jul 3 | $2,479,000 | $3,891,500 | $6,235,000 |
| Jul 10 | $2,468,000 | $3,900,000 | $5,998,985 |
| Jul 17 | $2,350,000 | $3,669,000 | $5,949,000 |
| Jul 24 | $2,399,000 | $3,799,999 | $5,995,000 |
| Jul 31 | $2,395,000 | $3,888,000 | $6,245,000 |
| Aug 7 | $2,492,000 | $3,895,000 | $6,345,000 |
| Aug 14 | $2,495,000 | $3,995,000 | $6,499,000 |
| Aug 21 | $2,499,000 | $3,995,000 | $6,395,000 |
| Aug 28 | $2,395,000 | $3,850,000 | $6,245,000 |
| Sep 4 | $2,372,500 | $3,957,500 | $6,446,500 |
| Sep 11 | $2,299,500 | $3,995.000 | $6,845,000 |
| Sep 18 | $2,349,600 | $3,995.000 | $6,750,000 |