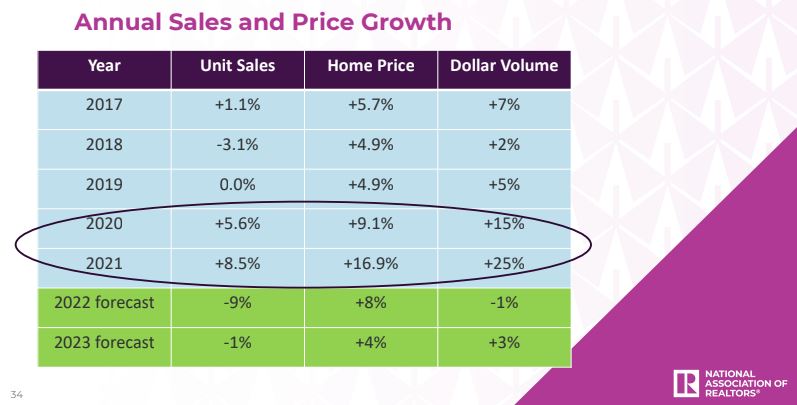 Yesterday, Lawrence Yun predicted that home sales will fall by 9% this year, and home prices will rise by 8%.
At the beginning of the year, his forecast was:
2022 Home Sales Forecast: -2%
2022 Home Price Forecast: +2.8%
2022 Mortgage-Rate Forecast: Rates to rise to 3.7% by the end of 2022.
His forecasts are just guesses, and subject to change!
~~~~~~~~~~~~~~~~~~~~~~~~~~~~~~~~~~~~~~~~~~~~~~~~
NAR calculates purchasing a home is now 55% more expensive than a year ago. These rising mortgage rates and prices hurt affordability, and although wages are improving, Yun says they are "wiped away" due to inflation.
"Wages have risen by 6% from one year ago and that's good news," he continued. "But inflation is at 8.5%."
He estimates inflation will remain elevated for the next several months and that the market will see further monetary policy tightening through a series of rate hikes. Citing a five-month decline in pending home sales, as well as a drop in newly constructed single-family sales, Yun predicts the higher mortgage rates will slow the housing market.