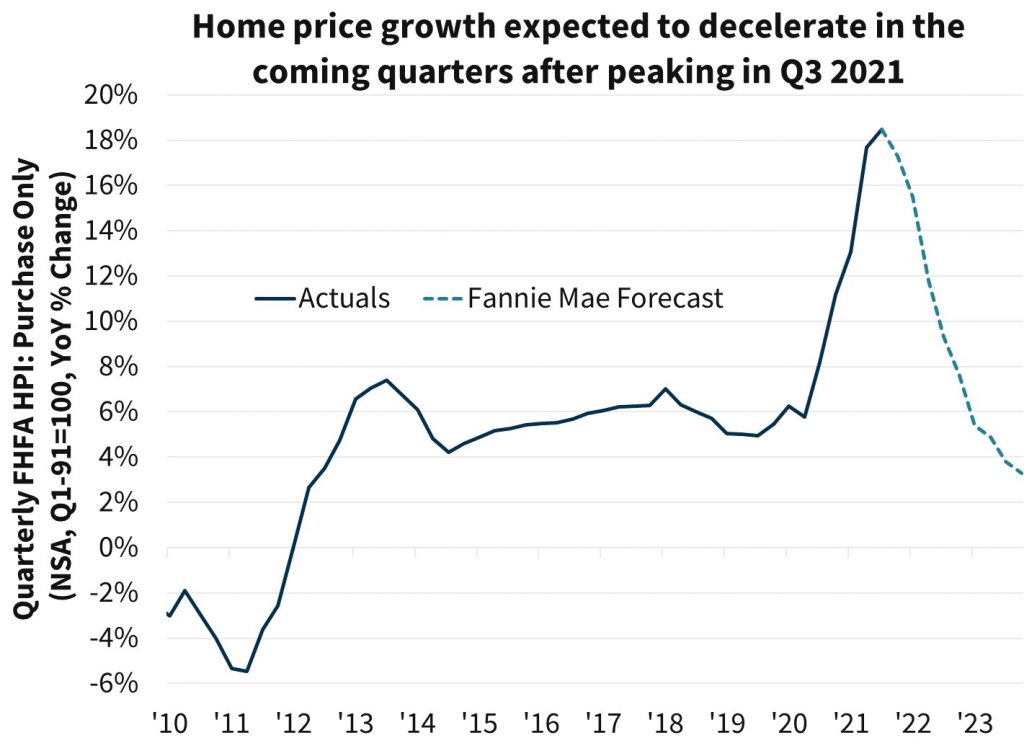 This is how Plateau City looks on paper when the YoY change nears zero in 2024-25 (above). From Fannie Mae – which, like most forecasts, is guessing that price increases will slow to about half of what they were last year:
When it comes to housing, the report says, "The past year's demand surge was driven by a combination of factors, low mortgage rates, down payments supported by stimulus checks and other savings, and a pandemic-driven reshuffling of preferences and move timing on the part of many households, all of which are expected to wane. Furthermore, the recent rapid house price appreciation and rising mortgage rates will lead to growing affordability constraints, dragging on home sales, but also likely limiting further price appreciation to a more sustainable pace."
The economists don't expect a soft year for home sales, existing sales will slow by only 3.2 percent this year, to the second fastest annual pace since 2006. But they do expect extremely limited inventories to produce "hypercompetitive bidding wars" in which potential homebuyers are priced out of the market.
Rapid price growth will eclipse wage gains and waning stimulus checks and built-up savings, will make it increasingly difficult for many potential buyers. Mortgage-backed security issuance data continues to show the average back-end debt-to-income (DTI) ratios of borrowers increasing, indicating growing affordability pressures. There appears to be ample prospective homebuyers currently, but their volume will likely lessen as the year unfolds.
Changes to the sales forecast are minimal. Total home sales are expected to fall 1.2 percent, an improvement from last month's -1.4 percent forecast. The 2023 slowdown has been revised from -3.8 percent to -3.6 percent.
Worsening affordability is still expected to dampen home price growth, but Fannie Mae expects prices growth to slow to 7.6 percent from the probable 17.3 percent in 2021. This is still considerably higher than the average pace of 5.4 from 2012 to 2019. Price growth will slow further to 3.3 percent in 2023. The current estimates are higher than the December forecasts of 7.4 and 2.9 percent.
https://www.mortgagenewsdaily.com/news/01202022-fannie-mae-forecast
The same article included this graph that reflects the who is leaving California – the do-it-yourself movers.