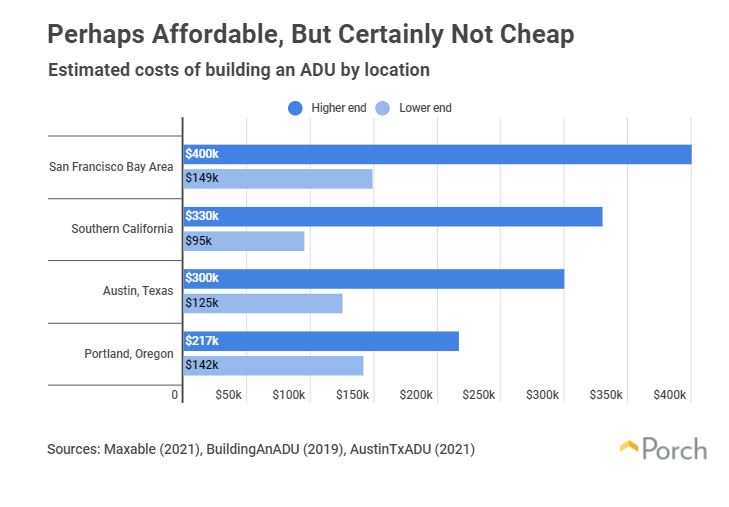 Because ADUs are expensive to build, there's not much hope that they will solve the housing crisis.
Key Findings
There are an estimated 1.5 million Accessory Dwelling Units (ADUs) in the United States, making up roughly 2% of all homes in the country
ADUs are growing at a rate of 9%, or 100,000 per year
An average cost of an ADU is $180,000, or $260 per square foot
In America's biggest cities, a home with an ADU is priced 35% higher on average than a home without one
The top states for ADUs are California (30%), Florida (12%), Texas (10%) and Georgia (5%)
The cities with the most ADUs are Los Angeles (12%), Portland (4%) and Houston (3%)
ADU sale listings are growing fastest in Portland (+23%), Dallas (+19%), and Seattle (+18%)
Whether you call them granny flats, in-law suites, or garage apartments – accessory dwelling units ("ADUs") are on the rise. There are an estimated 1.4 million of them in the United States, with around 110,000 constructed in the last year alone.
In 2020, ADUs were often heralded as one answer to the growing housing affordability crisis. Their proponents argue that ADUs offer an opportunity for homeowners to make extra income, for young people to rent affordably, and for communities to grow slowly and sustainably.
But then the pandemic came and changed everything, and hardly for the better. So where did that leave ADUs in 2021?
Read full article here: